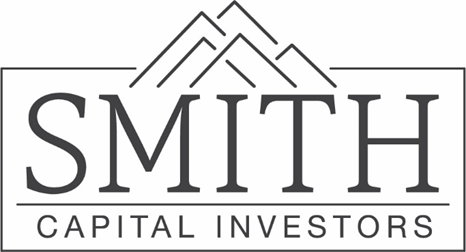 Will Powell Kickoff the Next Round of Market Volatility?
We are nearly through the first month of data, sitting squarely between the Fed's 75bps hike in July and the September FOMC meeting. After an extremely strong employment report and surprising softness from the inflation data, we can conclude that there is no easy button to be found. The market will now look to Powell's communication at Jackson Hole for any signaling around the pace of future rate hikes. The multi trillion-dollar question is will Powell toe the party line, or will he kickoff the next round of market volatility?
The Consumer Remains Strong:
Nonfarm payrolls were incredibly strong, adding 528k jobs in July with the unemployment rate at 3.5%, wages up 5.2% YoY and hours worked at 34.6.
JOLTS (Job Openings, Labor Turnover) shows ~10.7mm jobs available.
ISM services marked a 3-month high, surprising the market with strength from both business activity and orders.
Retail sales ex-auto and gas rose 0.7% showing that the consumer continues to spend.
Employment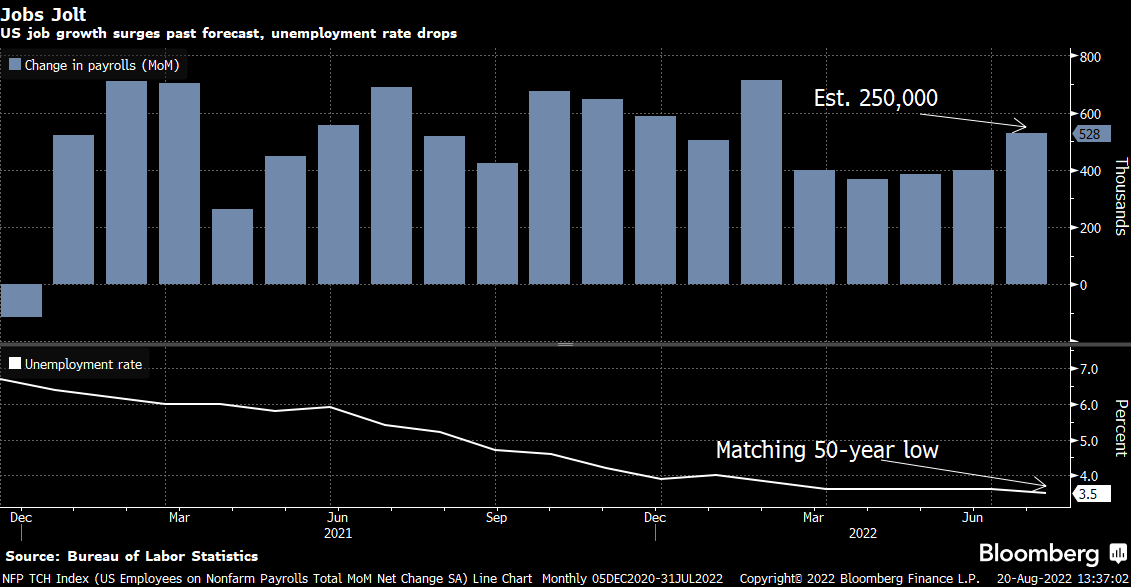 Source: Bloomberg, 8/5/2022
ISM Services PMI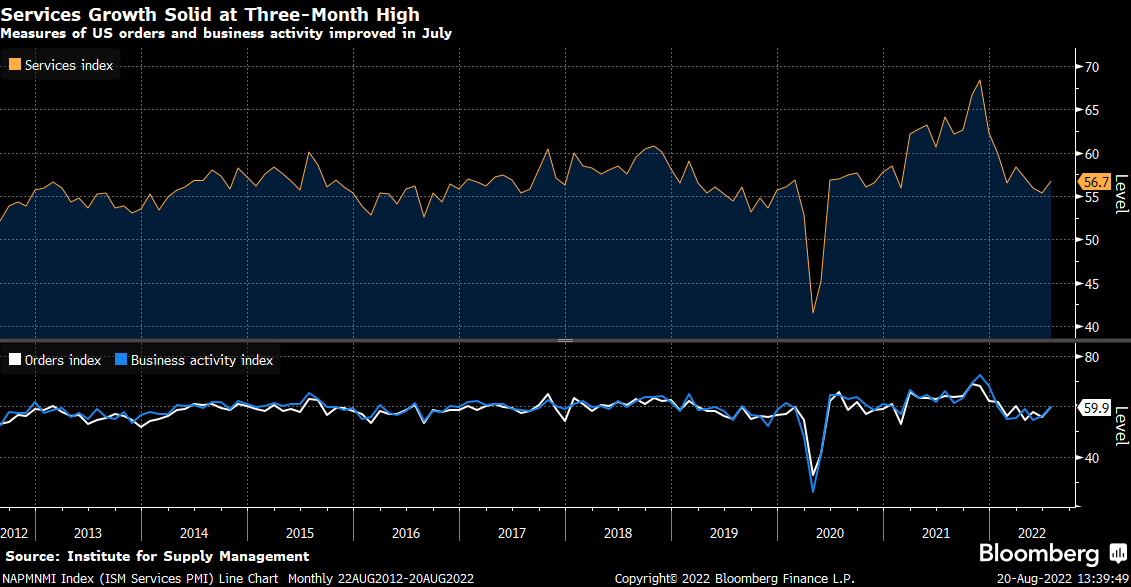 Source: Bloomberg, 8/3/2022
INSTITUTIONAL INVESTOR USE ONLY
Retail Sales Ex-Auto and Gas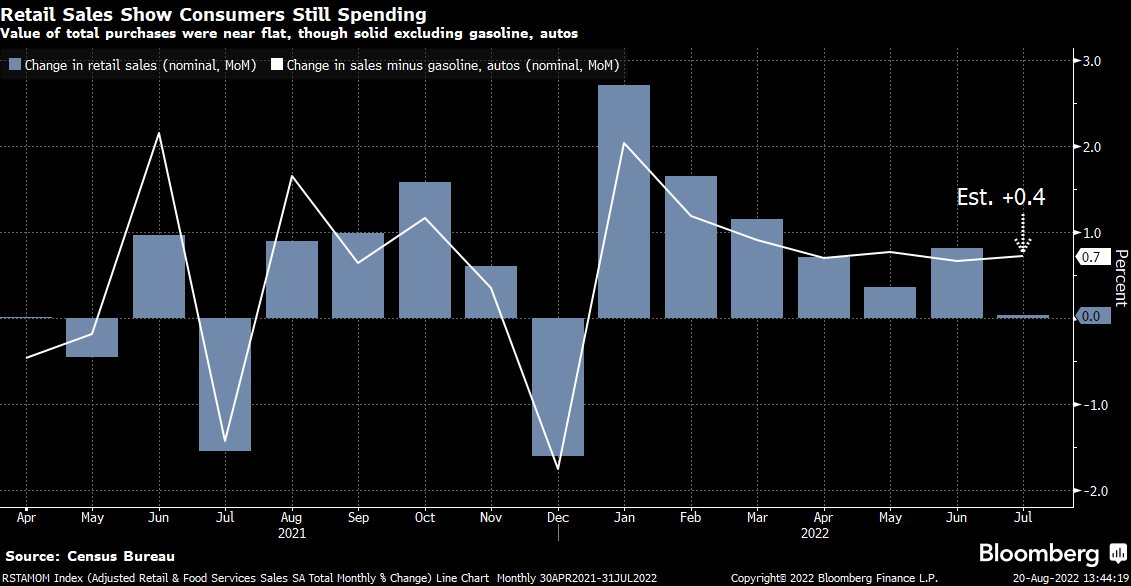 Source: Bloomberg, 8/17/2022
Inflation may be peaking:
Oil has been on a downward trend since June bringing relief to the pump with national average gasoline prices back below $4/gallon.
ISM Manufacturing Prices Paid are down to 60 from a high of 92 while the Producer Price Index finally started to ease in July.
The Consumer Price Index shocked the market in the July report; the Headline was flat and softened to 8.5% YoY from 9.1% in the June release. Core marked 0.3% this month and held at 5.9% YoY.
Oil vs. Gasoline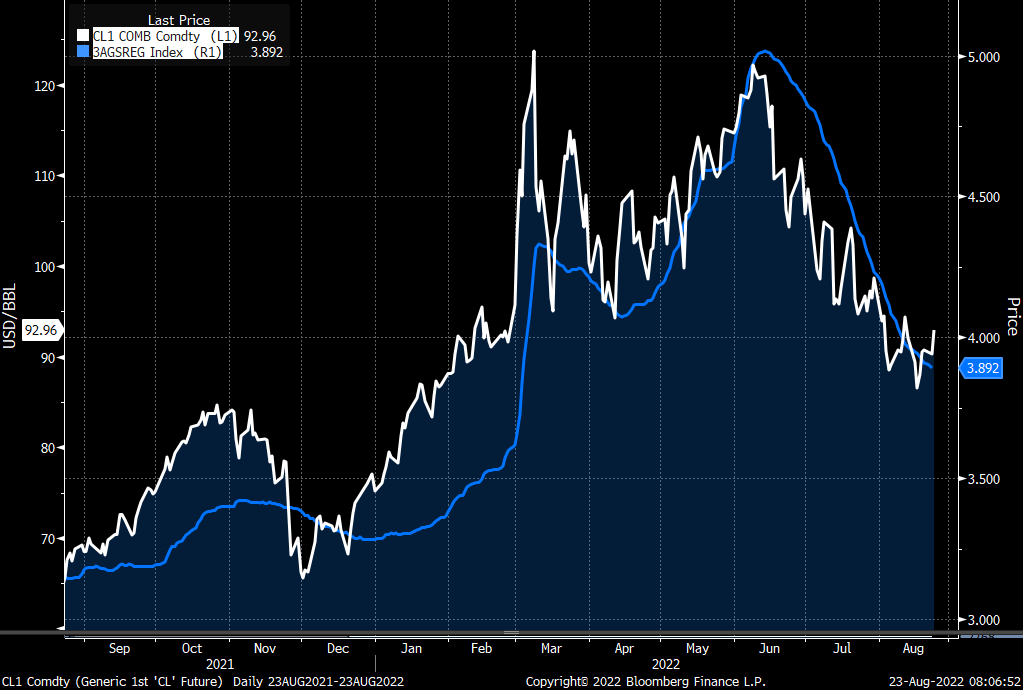 Source: Bloomberg, 8/23/2022
INSTITUTIONAL INVESTOR USE ONLY
ISM Manufacturing Prices Paid vs. PPI Ex Food/Energy/Trade YoY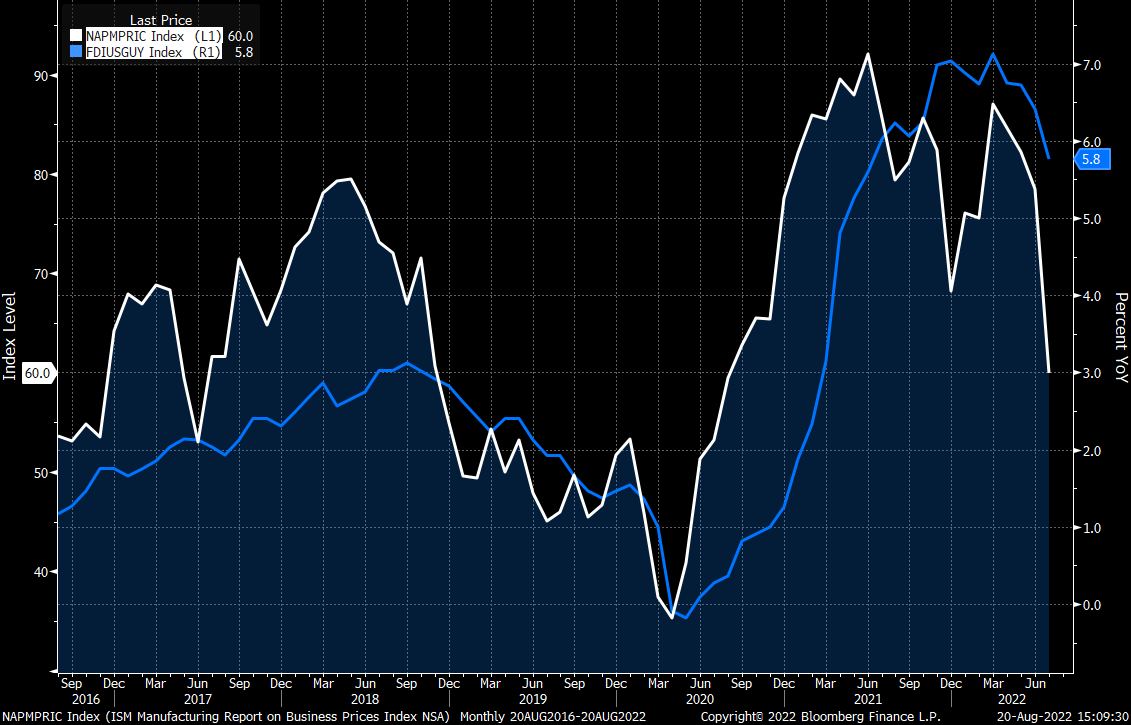 Source: Bloomberg, 8/20/2022
Consumer Prices Index vs. Core CPI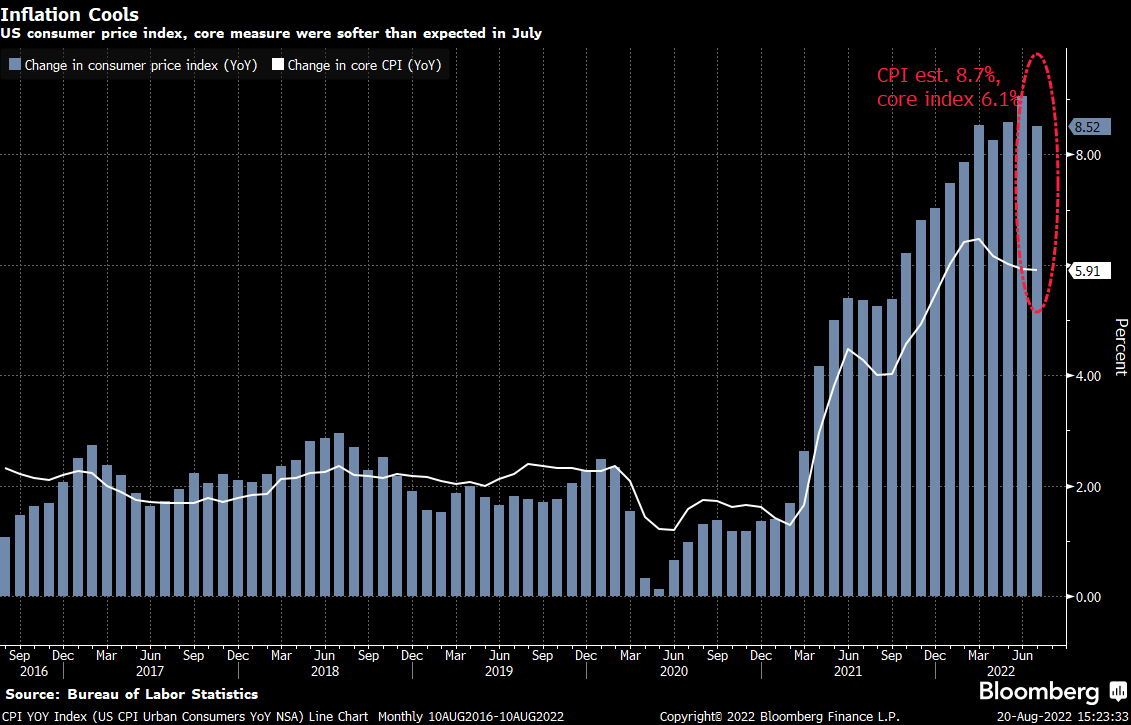 Source: Bloomberg, 8/10/2022
Fed communication has been hawkish:
Fed commentary acknowledges strength from the consumer, that they are seeing "improvement from prices but not declaring victory," and will move rates into somewhat restrictive territory but the idea that the Fed will cut rates next year seems "unrealistic."
James Bullard wants the Fed Funds rate at 3.75-4% by year-end, believes "front-loading" is the best strategy and expects rates will be "higher for longer."
Loretta Mester believes further hikes are warranted and that we "are not in a recession."
Michelle Bowman wants to consider large hikes (75bps) until "we see inflation declining in a consistent, meaningful, and lasting way."
What's Next?
Jackson Hole will be held August 25-27 and is a great platform for the Fed Chair to communicate with markets. The theme of the symposium this year is "Reassessing Constraints on the Economy and Policy."
We have one more round of employment and inflation data ahead of the September FOMC meeting.
The Fed's hope is that Monetary Policy will work to slow demand but acknowledges that it works with a lag. Fed members have been hawkishly-leaning thus far and are waiting on one more month of data for further evidence as to how the mechanism is filtering into the economy.
We will continue to watch interest rate probabilities, the 2-yr Treasury, and yield curves for signals that the Fed is nearing the end of the hiking cycle.
INSTITUTIONAL INVESTOR USE ONLY
U.S. Interest Rate Probability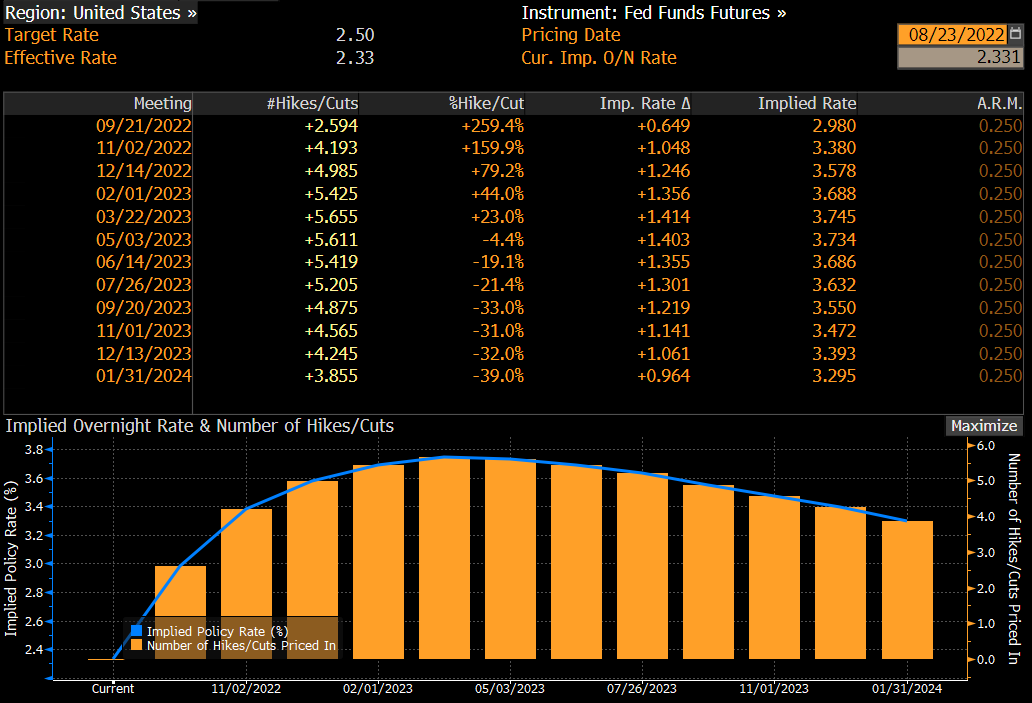 Source: World Interest Rate Probability, Bloomberg, 8/23/2022
2-yr U.S. Treasury vs. Fed Funds Rate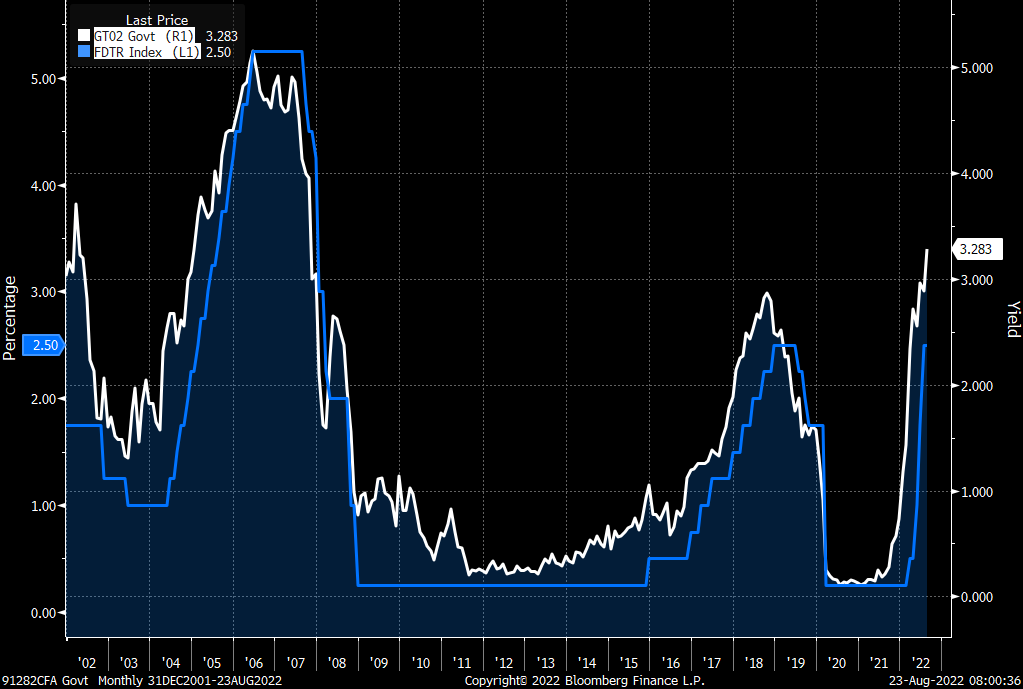 Source: Bloomberg, 8/19/2022
2-yr U.S. Treasury Minus 10-yr U.S. Treasury Curve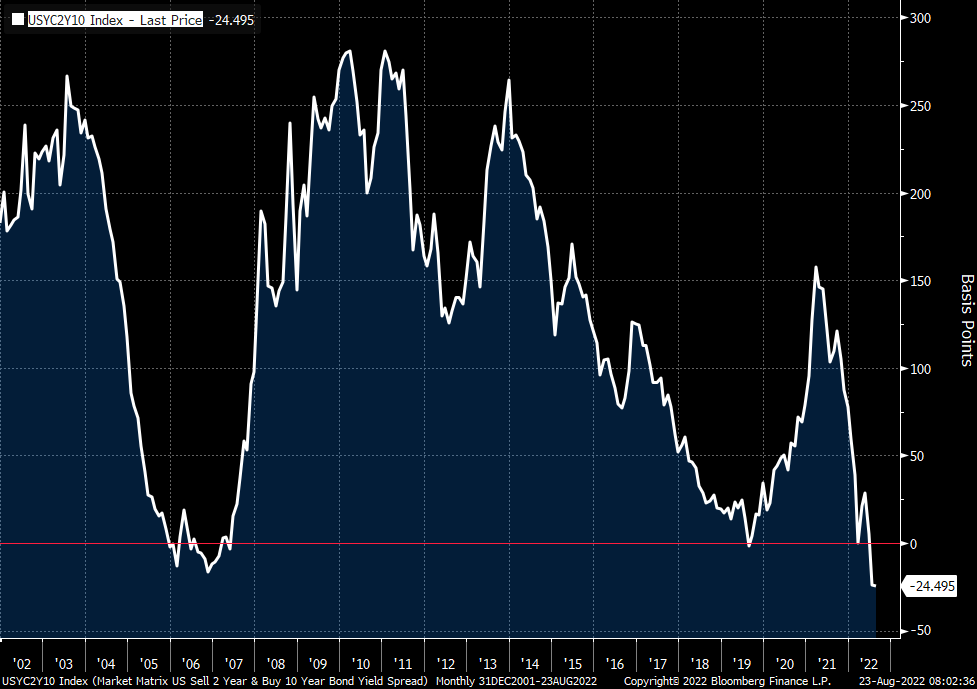 Source: Bloomberg, 8/23/2022
While we have been encouraged by the Fed's willingness to shift to a data-dependent stance going forward, the Fed is getting mixed messages within the data. While inflation may be peaking, the strong labor market goes against the Fed's attempt to slow demand. The Fed's fight to bring inflation back to the 2% target is not over yet, however, there is a tiny glimmer of hope that they still may land this plane smoothly and avoid a recession.
INSTITUTIONAL INVESTOR USE ONLY
Let's talk – Smith Capital Investors
Our mailing address is:
Smith Capital Investors
1430 Blake Street
Denver, CO 80202
303-597-5555
833-577-6484
info@smithcapitalinvestors.com
www.smithcapitalinvestors.com
The opinions and views expressed are as of the date published and are subject to change without notice of any kind and may no longer be true after any date indicated. Information presented herein is for discussion and illustrative purposes only and should not be used or construed as financial, legal, or tax advice, and is not a recommendation or an offer or solicitation to buy, sell or hold any security, investment strategy, or market sector. No forecasts can be guaranteed, and the author and Smith Capital Investors assume no duty to and do not undertake to update forward-looking predictions or statements. Forward-looking predictions or statements are subject to numerous assumptions, risks, and uncertainties, which change over time. Actual results could differ materially from those anticipated in forward-looking predictions or statements.
Any investment or management recommendation in this document is not meant to be impartial investment advice or advice in a fiduciary capacity and is not tailored to the investment needs of any specific individual or category of individuals. Opinions and examples are meant as an illustration of broader themes, are not an indication of trading intent, and are subject to changes at any time due to changes in the market or economic conditions. The information presented herein has been developed internally or obtained from sources believed to be reliable; however, neither the author nor Smith Capital Investors guarantees that the information supplied is accurate, complete, or timely, nor are there any warranties with regards to the results obtained from its use.  It is not intended to indicate or imply that any illustration/example mentioned is now or was ever held in any portfolio.
Past performance is no guarantee of future results. As with any investment, there is a risk of loss. Investing in a bond market is subject to risks, including market, interest rate, issuer, credit, inflation, default, and liquidity risk. The bond market is volatile. The value of most bonds and bond strategies are impacted by changes in interest rates. The return of principal is not guaranteed, and prices may decline if an issuer fails to make timely payments or its credit strength weakens. High yield or "junk" bonds involve a greater risk of default and price volatility and can experience sudden and sharp price swings.
Please consider the charges, risks, expenses, and investment objectives carefully before investing. Please see a prospectus, or, if available, a summary prospectus containing this and other information. Read it carefully before you invest or send money. Investing involves risk, including the possible loss of principal and fluctuation of value.
All indices are unmanaged. You cannot invest directly in an index. Index or benchmark performance presented in this document does not reflect the deduction of advisory fees, transaction charges, and other expenses, which would reduce performance.
This material may not be reproduced in whole or in part in any form, or referred to in any other publication, without express written permission from Smith Capital Investors.
Smith Capital Investors, LLC is a registered investment adviser.
SCI00312