Better-than-Feared
2Q20 Earnings Observations and Implications
Second quarter earnings have been filled with great information and definitive themes for reflection. Financial results and commentary from this quarter (and the following quarter) will provide insights into two very different periods of time – the shutdown and the reopening of the global economy.
Prior to second-quarter earnings, it was very clear that this would be one of the most interesting and important earnings seasons of the last decade. Working through it did not disappoint. Next quarter earnings promise to be as insightful, if not more!
Reading and listening to earnings releases, management calls, and deciphering the data points, we are finding ourselves defaulting back to a general theme that earnings were "Better-than-Feared." While this does not describe all 2Q results, it is one descriptor that brings together a lot of underlying, less clearly defined, crosscurrents in the market and the economy.
2Q Theme—a Focus on Liquidity
In every crisis, there are things to learn. The greater the time between crises, the higher the probability that those lessons dull. In the early stages of this crisis, companies, management teams, creditors, and shareholders almost ubiquitously prioritized shoring up liquidity due to the incredible uncertainty on the horizon. The Fed's early intervention was a key facilitator and enabled companies to pursue adding liquidity. In the spirit of raising capital quickly, companies drew down on available revolvers, issued debt at relatively high spread premiums to their average historic costs, got creative with asset sales and sale-leasebacks, and issued secured debt with non-traditional assets as collateral…and as you may imagine the list goes on. During this time, the Federal Reserve, in an effort to keep the market liquid, cut rates to zero, restarted Quantitative Easing, and brought over $2 trillion of loans to the markets.
INSTITUTIONAL INVESTOR USE ONLY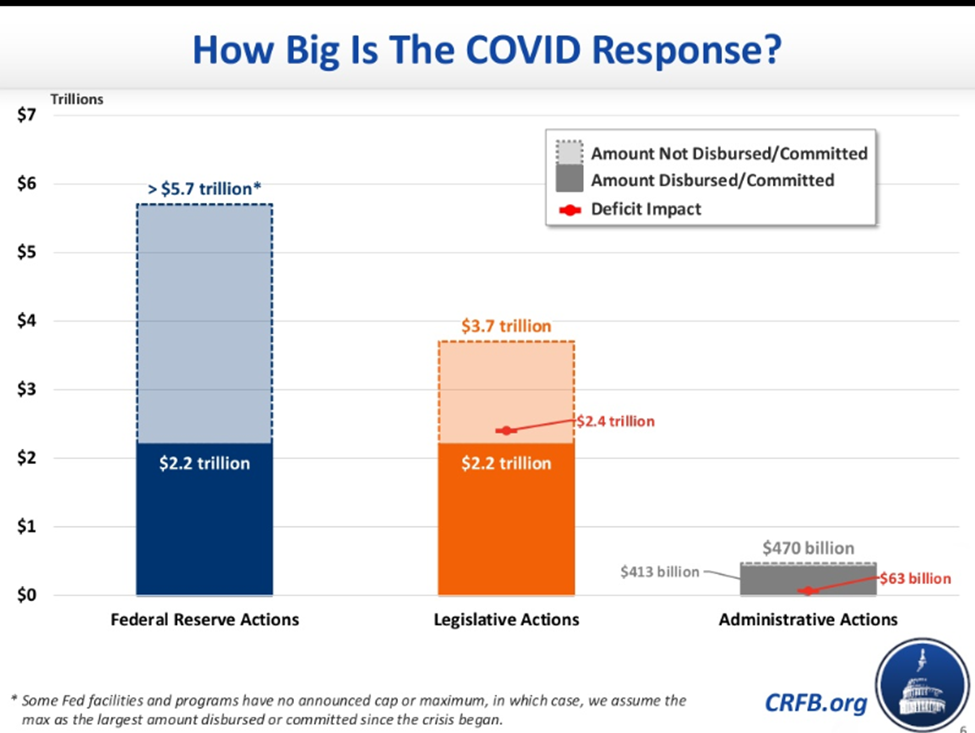 In addition to shoring up liquidity, many management teams are using the environment to retool their capital structures. To this point specifically, we have witnessed several companies announce large debt/liability management exercises focusing on some or all of the following: 1) reducing near-term debt maturities, 2) terming-out debt by issuing longer-dated maturities, and 3) taking advantage of the low borrowing costs to reduce debt service costs. We have also seen many companies cut their dividends to focus more of their finite cash flow generation on debt and leverage reduction. Many of these actions, along with the underlying defensiveness of management teams, can be positive for holders of a company's debt.
On the flip side, some companies, seeing signs of a rebound, are taking measured steps towards putting capital to work and reducing what they deem as excess liquidity. To this point, we are seeing early signs of increased shareholder-friendly activity, merger and acquisition activity, and indicators of rehiring and inventory rebuilding.
As an example, after strong second-quarter numbers, QVC owner Qurate Retail (QRTEA) declared a sizeable special dividend to shareholders. Furthermore, Dialysis provider DaVita (DVA), after recently raising money in the debt markets, announced a $1 billion bid for its outstanding stock. With more clarity around liquidity, low borrowing costs, and potential tax and regulatory changes on the horizon, we expect share repurchase activity to increase.
Within the same theme of 2Q being a period of capital raising, banks, credit card companies, and other lending focused financial institutions have built significant amounts of reserves to absorb credit losses. Interestingly though, and at least for now, 2Q results have seen many companies report stable delinquency measures.
For example, 2Q20 30-day loan delinquency rates at Capital One Financial (COF), Discover Financial (DFS), and Synchrony Financial (SYF) (companies with large credit card businesses) all improved on a year-over-year basis by 1.06%, 0.20%, and 1.30%, respectively. This suggests that the massive amount of fiscal and monetary stimulus may be doing its intended job – temporarily bridging the gap for the private sector until a more stable recovery is at hand.
While many factors can contribute to the trends in credit quality there is little doubt that the aggressive moves of monetary policy and overwhelming fiscal stimulus are having an impact. Furthermore, generous company-led consumer relief programs in the form of deferred payment options and financial assistance are doing their part as well.
Take note of Capital One Financial's declining weekly enrollments in its customer assistance program:
INSTITUTIONAL INVESTOR USE ONLY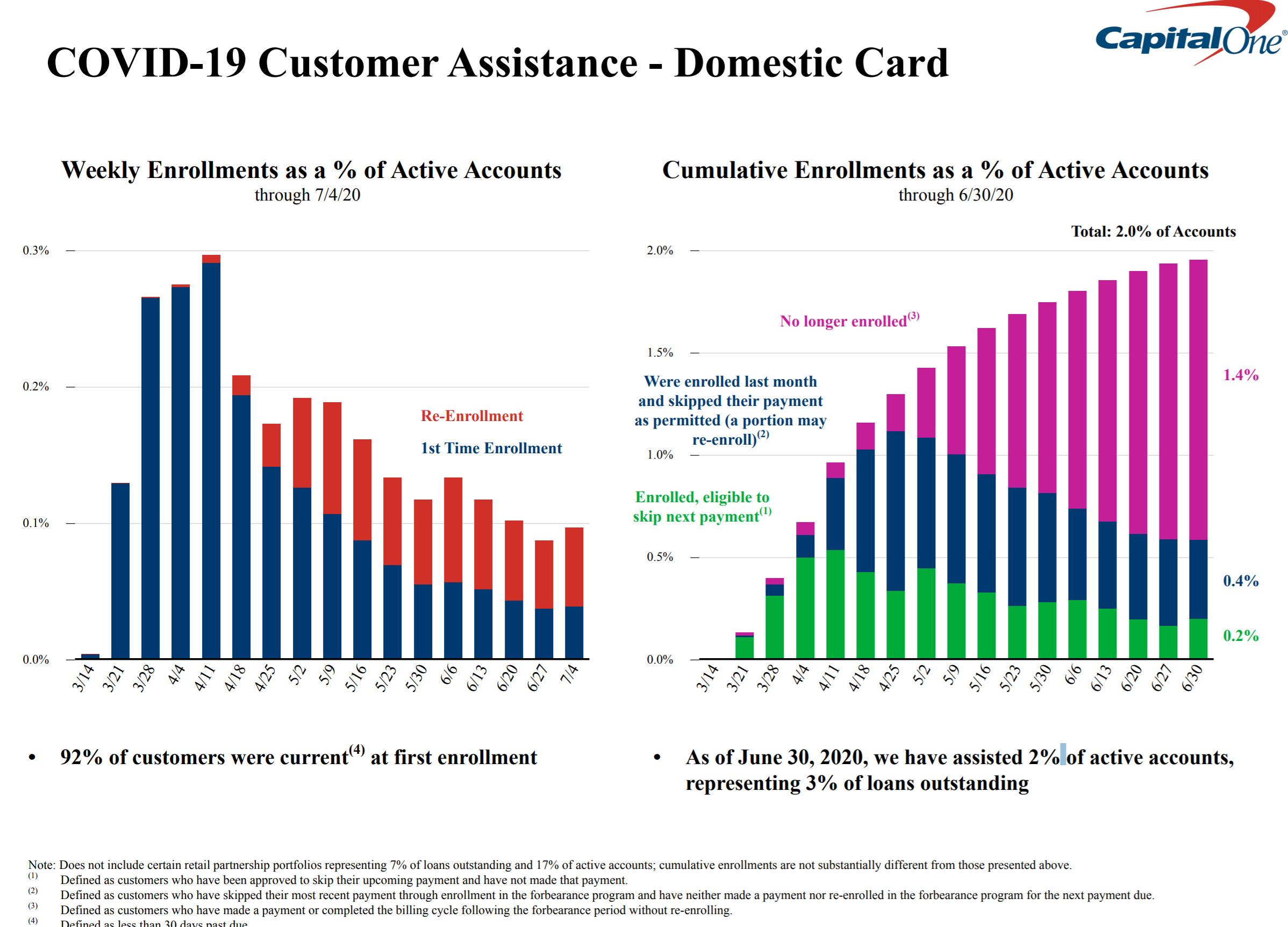 And similarly, at Discover Financial and Synchrony Financial: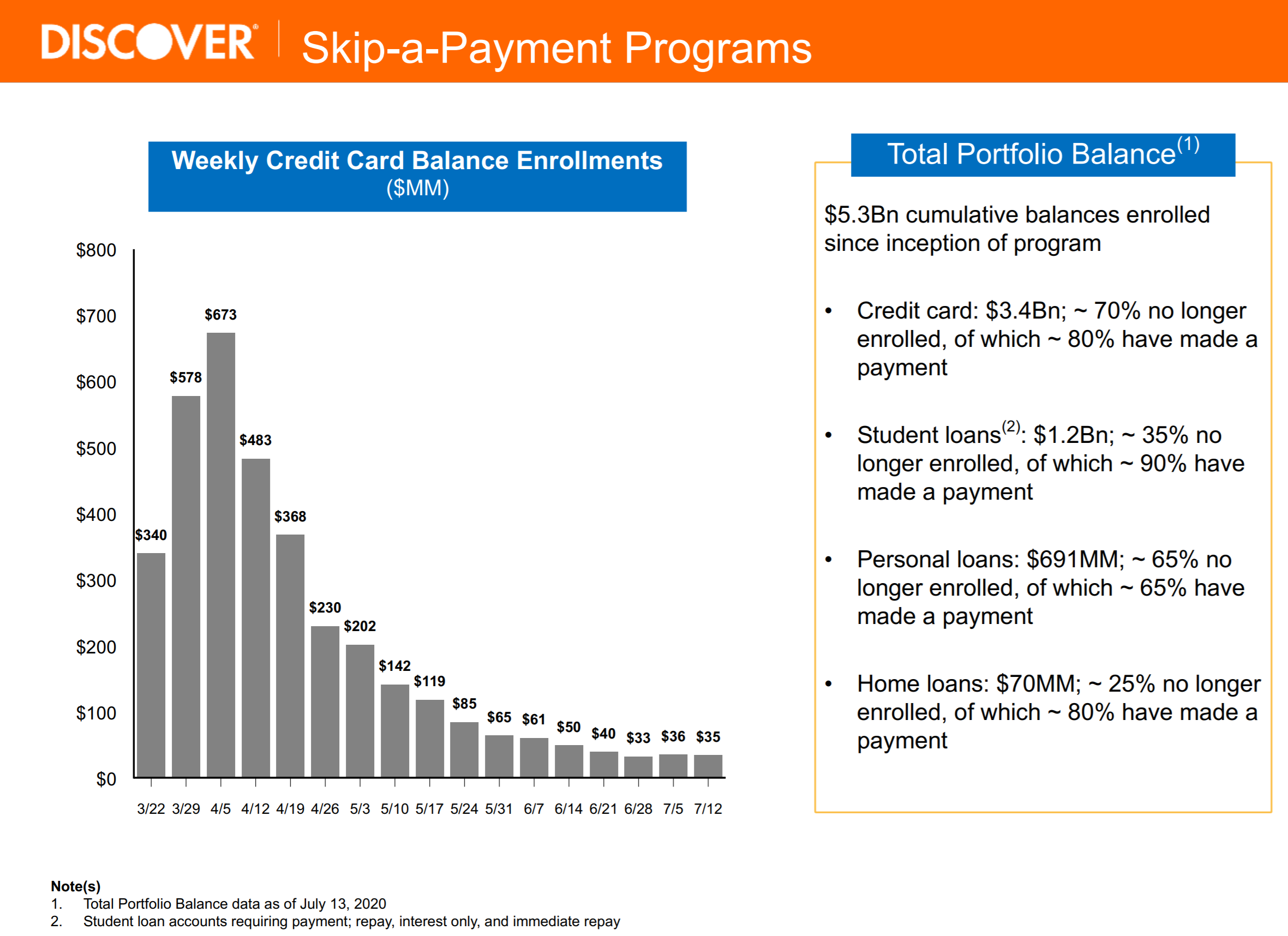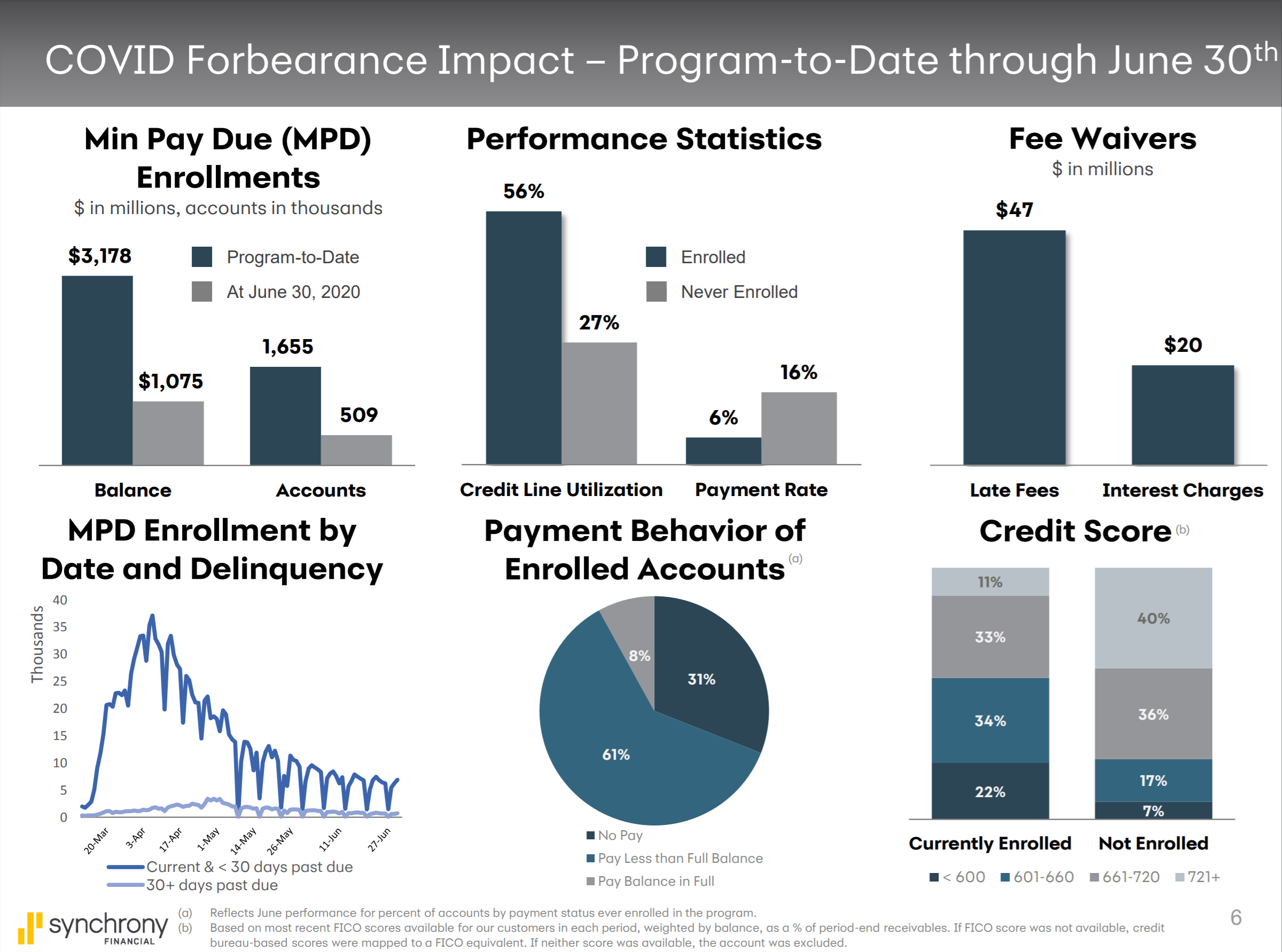 INSTITUTIONAL INVESTOR USE ONLY
Dissecting some of these deferred payment programs and other financial institution-led consumer relief programs, we see signs these initiatives have helped bridge liquidity gaps for many. If (and that is still a big 'if') any reserving measures prove to be too conservative, the marketplace could witness future reserve releases that could be used by banks in a variety of ways.
Ultimately, the collaboration between the private and public sector in addressing this crisis has been very beneficial for the consumer and the economy where overall it would appear as though many companies are through the worst of the crisis—though we are keeping a very close eye on developments.
The Path Forward
From here we find ourselves asking questions and debating topics related to the path forward. How will businesses change because of the pandemic? What changes that we observed in 2Q will prove transient vs. permanent? How will corporate cultures change and what societal issues will emerge from this crisis? Who will be the winners and the losers? What economic impacts will be felt for the longer-term? How will downgrades and defaults trend as rating agencies and the marketplace acquire more data on current and future conditions? Frequently there are more questions than answers.
An area of significant focus for us is the substantial restructuring of cost structures and labor forces. Faced with unprecedented drops in revenue and utilization rates, management teams, in addition to the financial engineering mentioned above, have been laser-focused on taking costs out of their businesses. The survival environment over the last several months has decreased criticism and pushback in making assertive decisions around costs and labor. This has allowed companies to take significant action toward reducing cost structures that may have otherwise been put off in a more benign operating environment.
Some of the cost actions that were prevalent throughout 2Q were aggressive labor force reductions through furloughs or terminations, reductions in marketing spend, rent deferrals and renegotiations, elimination of travel and entertainment expenses, and terminations of unproductive cost centers. Low return-on-investment (ROI) services or amenities provided to consumers have proven to be very vulnerable in this environment. As a result of these actions, as well as effective working capital management, cash flow outcomes have generally been better-than-feared in 2Q despite large year-over-year revenue declines.
As we come out of the pandemic and the economy recovers many of the traditional costs in business will return. But we believe that a portion of the cost reductions implemented by management teams will prove to be more permanent. On the positive side, these cost reductions may translate into greater operating leverage, enhanced productivity, and ultimately higher margin profiles. With the higher margins, we may see a spike in free cash flow generation from many businesses and hopefully a renewed focus on debt reduction. On the negative side, leaner staffing levels will result in higher displaced labor, which could be a problem for the sustainability of the economic recovery and an uncomfortable social issue on the horizon.
One area where margin improvement is evident is in regional gaming. Boyd Gaming (BYD), an operator of casinos in regional markets, reported that since the reopening of its casinos following pandemic-related shutdowns EBITDAR margins have expanded by over 1,000 basis points as a result of the streamlining of costs related to labor, a reduction in marketing and promotional expense, and a more "no-frills" service offering such as "grab and go" food offerings vs. full-service restaurants. While these may prove to be transient improvements, the adaptability of many of these businesses has been amazing. Away from gaming, many companies are experiencing the benefit of lower travel and entertainment budgets going forward as salesforce productivity has been solid despite remote interaction. Again, it may be a transient and unsustainable outcome but probably triggers a reevaluation of how business should be conducted going forward.
If maintained, structurally higher margin profiles and corresponding increases in free cash flow conversion should result in higher go-forward cash flows and therefore more valuable companies. On the other side of the coin, we can see how this trend could be transient and can understand the skepticism that there will truly be a fundamental change. The highly competitive nature within industries gives us pause. While management teams may hold the line on expenses coming out of the pandemic, when volumes normalize, we could see an environment where competitive forces, to attract greater volume from competitors, start to erode margins. As mentioned at the start of this write-up, the greater the time between crises, the higher the probability that those lessons dull.
One trend observed in 2Q that we view as more permanent than transient is the acceleration toward a more digital economy. The trend toward digital has been underway for some time, but the abrupt closure of a large part of the physical-economic footprint forced many companies to fully embrace the digital channel. This trend was especially evident in retail. HanesBrands (HBI) saw global online sales up more than 70% in the quarter. Even Levi's (LEVI), which sells apparel that caters more to the brick-and-mortar buying experience, reported global e-commerce growth of 79% in May. The company also exited the quarter with curbside pickup capabilities in 80% of its store base. Going forward, we expect the accelerated investment in digital sales capabilities observed in 2Q to continue as consumers embrace the convenience of the online channel and businesses build store-closure scenarios into their stress tests. We would be hard pressed to not mention our concern around commercial real estate as something we are watching closely.
While there are some potential green shoots from second quarter earnings, there remains a material amount of uncertainty in the economy and marketplace. With a furrowed brow, we are closely keeping an eye on the progression, or lack thereof, of additional fiscal aid for small and medium-sized businesses as well as for consumers. The fourth aid package – anticipated to be over $1 trillion – remains in limbo as of this writing but is expected to include supplemental unemployment benefits, stimulus checks, and possibly a back-to-work bonus.
Conclusion
Whether you are a macroeconomist at the Fed, a CEO of a business, an elementary school teacher, or an investor, this global pandemic has touched your life. We are all working to adapt and find ways to thrive in the new world we live in. Bridging different gaps, monetary and otherwise, have taken center stage. For many the first gap to the bridge was building up liquidity—2Q results highlighted the many shapes, sizes, and strategies to achieve this. The next, which we may be in now, is the re-evaluation of how we are going to function going forward. There will be trials and experimentation. New processes will emerge, and different expectations will take center stage. As we work our way through this, we will have to adjust the way we analyze and understand the drivers behind the new environment. Under these bridges, there remains a swell of crosscurrents, and attempting to navigate them can be daunting. Through time and discipline, we have learned that distilling what is important from what is not can be aided by a fundamentally focused investment process that starts from the bottom up. Going forward, bridge building will continue to be imperative for both the long-term health of corporations and consumers alike. Supported by the collaboration of fiscal and monetary policy, this truly has been an exercise of bridging the gap where the results have thus far largely been better-than-feared.
Let's talk – Smith Capital Investors  
Our mailing address is:
Smith Capital Investors
1430 Blake Street
Denver, CO 80202
303-597-5555
833-577-6484
info@smithcapitalinvestors.com
www.smithcapitalinvestors.com
INSTITUTIONAL INVESTOR USE ONLY
The opinions and views expressed are as of the date published and are subject to change without notice of any kind and may no longer be true after any date indicated. Information presented herein is for discussion and illustrative purposes only and should not be used or construed as financial, legal, or tax advice, and is not a recommendation or an offer or solicitation to buy, sell or hold any security, investment strategy, or market sector. No forecasts can be guaranteed, and the author and Smith Capital Investors assume no duty to and do not undertake to update forward-looking predictions or statements. Forward-looking predictions or statements are subject to numerous assumptions, risks, and uncertainties, which change over time. Actual results could differ materially from those anticipated in forward-looking predictions or statements.
Any investment or management recommendation in this document is not meant to be impartial investment advice or advice in a fiduciary capacity and is not tailored to the investment needs of any specific individual or category of individuals. Opinions and examples are meant as an illustration of broader themes, are not an indication of trading intent, and are subject to changes at any time due to changes in the market or economic conditions. The information presented herein has been developed internally or obtained from sources believed to be reliable; however, neither the author nor Smith Capital Investors guarantees that the information supplied is accurate, complete, or timely, nor are there any warranties with regards to the results obtained from its use.  It is not intended to indicate or imply that any illustration/example mentioned is now or was ever held in any portfolio.
Past performance is no guarantee of future results. As with any investment, there is a risk of loss. Investing in a bond market is subject to risks, including market, interest rate, issuer, credit, inflation, default, and liquidity risk. The bond market is volatile. The value of most bonds and bond strategies are impacted by changes in interest rates. The return of principal is not guaranteed, and prices may decline if an issuer fails to make timely payments or its credit strength weakens. High yield or "junk" bonds involve a greater risk of default and price volatility and can experience sudden and sharp price swings.
Please consider the charges, risks, expenses, and investment objectives carefully before investing. Please see a prospectus, or, if available, a summary prospectus containing this and other information. Read it carefully before you invest or send money. Investing involves risk, including the possible loss of principal and fluctuation of value.
All indices are unmanaged. You cannot invest directly in an index. Index or benchmark performance presented in this document does not reflect the deduction of advisory fees, transaction charges, and other expenses, which would reduce performance.
This material may not be reproduced in whole or in part in any form, or referred to in any other publication, without express written permission from Smith Capital Investors.
Smith Capital Investors, LLC is a registered investment adviser.
INSTITUTIONAL INVESTOR USE ONLY
SCI00069(2)