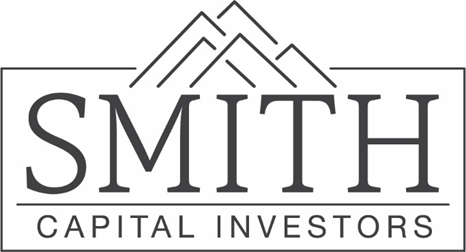 The Current State of the Treasury Market
The market seems to be anxiously awaiting an extreme move from Treasuries. The tone on rates has moved decidedly less bullish as the consensus embraces the view that rates will gradually move higher as the global economy recovers. While we do believe there will be a period in 2021 that takes the long bond back to pre-COVID yield levels (a steeper curve), we believe market volatility remains present in the short-term as event risk continues to be front and center. The recent volatility is a result of each positive event being met with a negative headline, the proverbial back and forth we have become so accustomed to in this environment. This ping pong match of positive and negative news has kept rates from breaking higher, but a strong growth outlook, greater confidence on the horizon, and a return to normalcy may not keep us in the range for much longer (Figure 2). Below we look at some of the factors driving the Treasury market.
We have greater clarity on the election – except for the Georgia runoff – and a vaccine will be distributed in phases through the first half of 2021. However, we still have lingering risks including current (and likely future) closures and rising virus cases. This suggests that while we are unlikely to return to the previous low yields from March, it is also unlikely that we return to pre-COVID yield levels in the immediate future.
Market Risks
COVID, lockdowns, hospital capacity
December Continuing Resolution/Budget
Expiration of benefits, 4th Stimulus
December 16th Fed meeting:

Summary of Economic Projections (SEP)
Possibility that Fed extends duration of portfolio

Year-end duration extension technical
Massive liquidity in the system
Demand for auction supply, rising debt/deficit funding
Speed of economic recovery/reopening
The Curve
We continue to believe that the front-end of the yield curve will be anchored by the Fed's commitment to zero interest rate policy. The 2-year U.S. Treasury is expected to trade in a very close +/- relationship around the Fed Fund's rate, likely until 2023 (Thank you Mr. Powell for making policy time commitments that expire beyond your term as Chairman). The pivot point for the front end is now between the 3 and 5-yr maturity range. This is where we would expect some marginally greater volatility over the medium-term, albeit not extreme.
The longer end of the curve – 10 years and longer – will be more subject to volatility in the near and medium-term. We expect that the 30-year will be the most volatile point on the curve over the short and medium-term, largely driven by its very long duration, an outcome of the low yield environment. 30-year U.S. Treasuries could exhibit equity-like volatility in the front part of 2021 as the market adjusts its expectations around the economic recovery. We believe the benchmark 10-year, 20-year, and 30-year Treasuries will continue to react to positive and negative news in the near term. Obviously, the more positive the news, the greater the risk of higher rates. While this conclusion may be very simplistic, we believe there may be too much complacency in the market around the potential for greater volatility and higher yields.
We reserve a little caution in our view around higher rates, especially as it gains support in the market (we always get a little nervous when our views are close to consensus). We find ourselves seeking out data and commentary that validates the lower for longer view and have asked teammates to argue the case that rates will be a lot lower by the end of 2021. These arguments seem to default to deflation, the inability of the global economy to sustain high levels of growth (in light of heavy debt loads) and/or a significant exogenous event – virtually impossible to predict. We want to be respectful of these views as they can trigger big reversals in the direction of rates.
Another consideration for the long end. We know that the Fed has committed to an aggressive Quantitative Easing (QE) program. We believe this rate containment commitment is focused on facilitating the U.S. Treasury's deficit financing needs. We could argue that they also believe lower long-term rates help stabilize company balance sheets, promotes refinancing (lowering interest expense), and fuel longer-term borrowing. We question if the Fed is truly committed to yield curve policy management or just using moral suasion to keep long rates in check. More on this below.
We share a curve graphic below (Figure 1) that highlights the front-end being anchored, while the long end has shifted between positive and negative sentiment.
Curve Events
June 5, 2020 (green triangles) market optimism around re-opening
August 4, 2020 (orange) negative sentiment after the second wave of COVID. Reopening risks, stimulus talks breaking down, and going into election uncertainty
August 27, 2020 (green square) post-Powell's inflation overshooting announcement and improving economic data
November 11, 2020 (yellow) Election Optimism
Current (green solid line)
Figure 1: U.S. Treasury Curve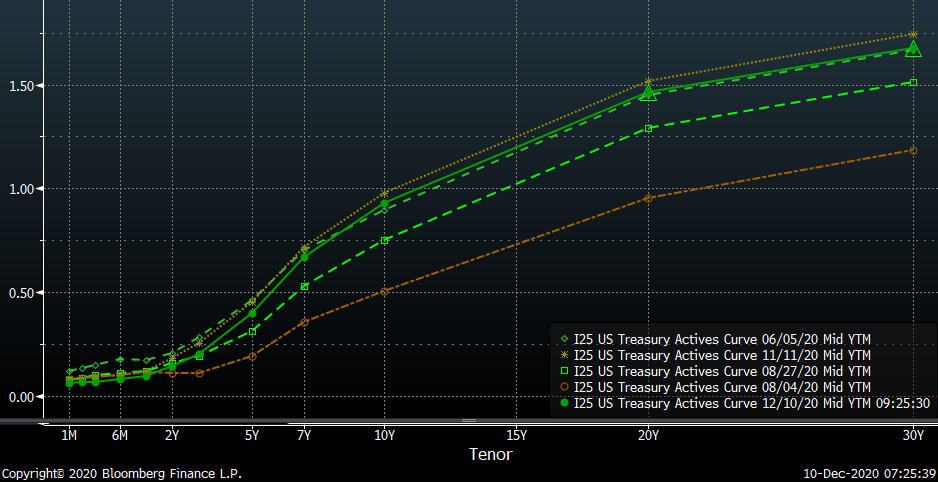 Source: Bloomberg 12/10/2020
With virus cases increasing once again, we are back in an economic holding pattern in the near term. We have been here before and we know what lockdowns look like. We know what increasing cases look like, but we also have a potential vaccine rollout in the not-so-distant future. At this point, we are slowly trending to higher outright yields due to forward economic progress, marking higher lows yields in the channel and higher high yields. This movement reflects economic improvement but will not warrant pre-COIVD yield levels until we near broad vaccine distribution.
Figure 2: 30-yr U.S. Treasury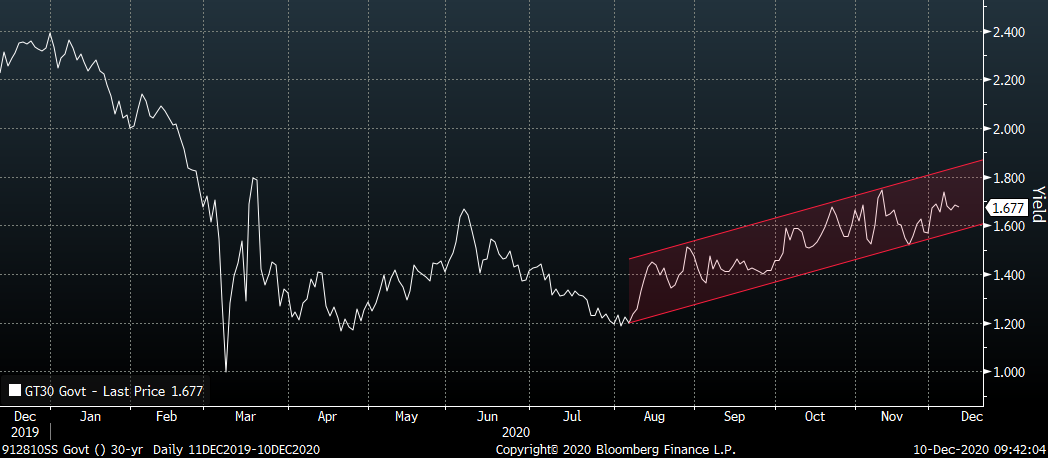 Source: Bloomberg 12/10/2020
The Fed
One competing factor around long-rates remaining contained is the Fed's QE program. The market has been supported by the possibility that the Fed may engage in more aggressive QE and yield curve management. There is also discussion around the Fed extending the duration of their portfolio, essentially increasing purchases in the 7 to 30-year space. The fear of being short and fighting the Fed purchases keeps many rate traders in check. This also may be holding down volatility in the near term. We will find out this week if the Fed is willing to change its policy. We believe that the Fed will keep this silver bullet in its chamber versus shooting it too early. A policy-unchanged announcement could create a buy the rumor/sell the fact moment for the market, putting a little upward pressure on long rates. Previous QE announcements were met with buying into the announcement, followed by selling after the announcement. We are watching closely!
Given the increasing virus cases and the recent slower pace of recovery, we believe the reaction could be very much like Operation Twist, which was met with a more muted outcome. Note Figure 3 below.
Quantitative Easing (QE) Red Circle:
QE1: Nov 25, 2008, sold off ~224 bps from Dec 18th low to June 2009
QEII: Nov 3, 2010, sold off ~75 bps from announcement until Feb 2011
Operation Twist Sept 21, 2011, did not see the sell-off
QEIII and Taper Tantrum (Red arrow): Sept 13, 2012 (QEIII), May 22, 2013 (TT) sold off ~125 bps through YE 2013
Figure 3: 30-yr U.S. Treasury QE Operations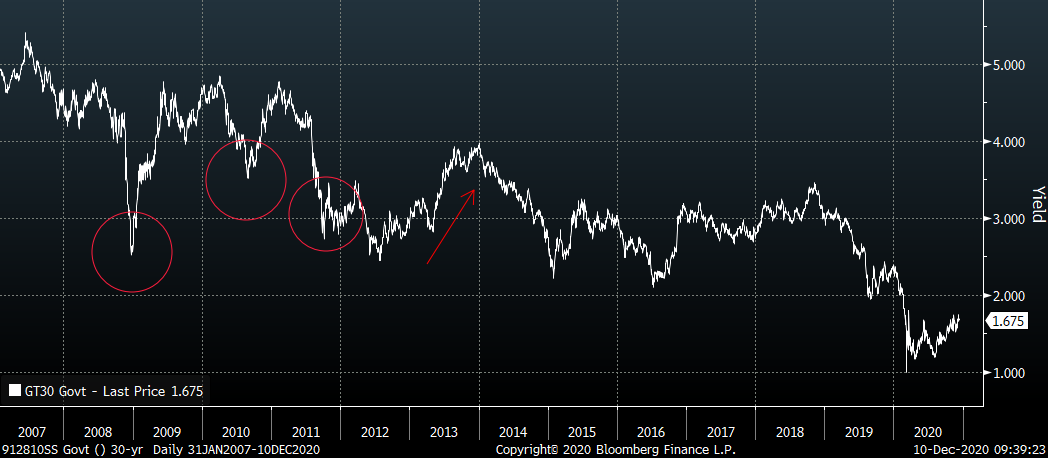 Source: Bloomberg 12/9/2020
Deficit Funding
Another factor that could continue to weigh on the markets will be funding the fiscal deficit. Thus far demand remains strong for U.S. Treasury supply as evident this past week with the $56bln 3-yr, $38bln 10-yr, and $24bln 30-yr supply being easily digested. This may not always be the case. We expect at some point, that funding needs will put pressure on the U.S. Treasury market. Buyers may require higher yields to absorb the massive levels of supply. This could become an amplified issue if the marketplace is worried about higher rates or we see a significant adjustment in inflation expectations (a topic for another write up in the future). We are not there yet but will continue to watch for changing demand sentiment in the months ahead. We are reminded again that the longer the Fed can keep rates low, the greater the benefit for the Government and its ability to finance the large and growing deficit.
Figure 4: Average Interest Rate on Marketable Debt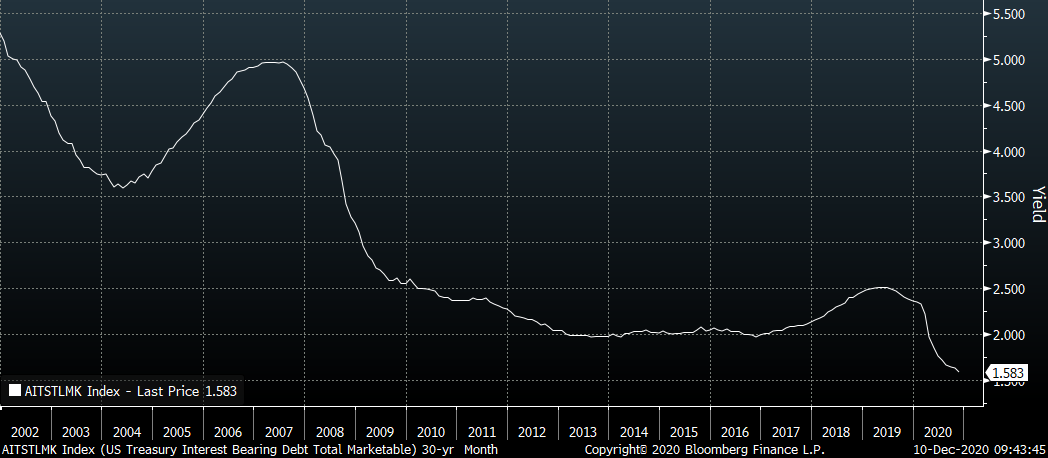 Source: Bloomberg 12/10/2020, U.S. Treasury
Figure 5: Debt to GDP Scenarios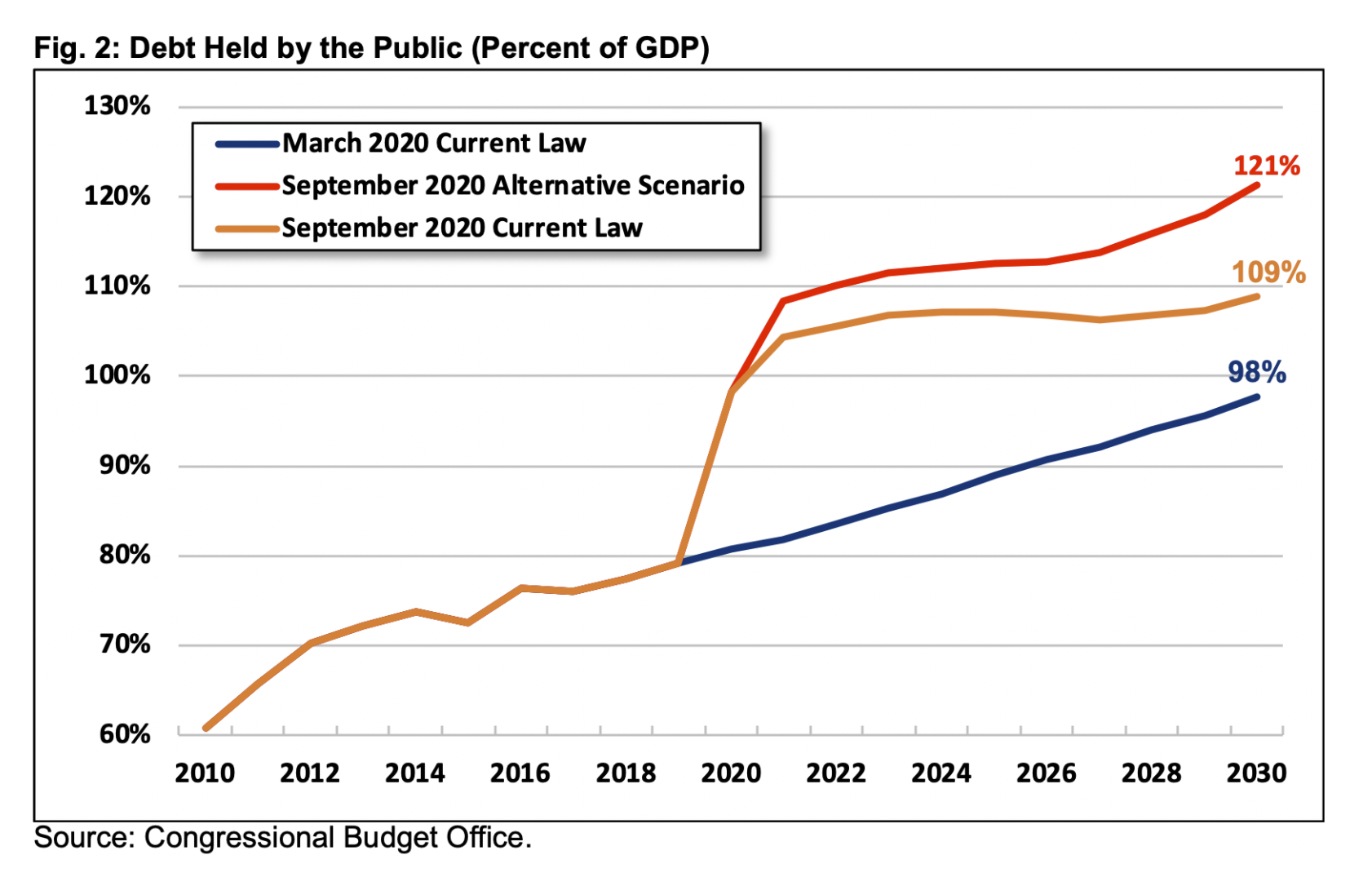 Source: http://www.crfb.org/papers/analysis-cbos-september-2020-budget-outlook
We close with one last consideration. The long end of the U.S. Treasury market has historically served as a source of insurance in fixed income portfolios – when we enter risk-off environments, long rates tend to rally and provide a ballast in the portfolio. This long-term thesis was challenged a few months back, creating a bout of volatility. If you recall, this came at a time when many in the marketplace were, once again, arguing that fixed income should be completely abandoned for alternatives. We save that for future discussions too but want to address the insurance policy nature of the long end.
We continue to believe, in the near term, that flight-to-quality periods in the market will result in the long end providing insurance/protection against volatility. This is an important part of our active management process. We envision an environment in the future where significant adjustments in inflation expectations result in less effectiveness. This will force adjustments in mindset and process. We believe the preservation of capital will take center stage when we enter this period in the future. But, we believe, this lies long into the future. We raise the issue as we think this theme will be revisited in 2021 and investors should be considering this today. We are happy to engage with our thoughts.
Volatility will remain present as we work through the turn of the year and into 2021. While we do see rates eventually moving higher in 2021, we will need to see the vaccine rollout and further economic recovery take shape. 2021 is going to be an interesting year and likely one for the record books!
Let's talk – Smith Capital Investors  
Our mailing address is:
Smith Capital Investors
1430 Blake Street
Denver, CO 80202
303-597-5555
833-577-6484
info@smithcapitalinvestors.com
www.smithcapitalinvestors.com
The opinions and views expressed are as of the date published and are subject to change without notice of any kind and may no longer be true after any date indicated. Information presented herein is for discussion and illustrative purposes only and should not be used or construed as financial, legal, or tax advice, and is not a recommendation or an offer or solicitation to buy, sell or hold any security, investment strategy, or market sector. No forecasts can be guaranteed, and the author and Smith Capital Investors assume no duty to and do not undertake to update forward-looking predictions or statements. Forward-looking predictions or statements are subject to numerous assumptions, risks, and uncertainties, which change over time. Actual results could differ materially from those anticipated in forward-looking predictions or statements.
Any investment or management recommendation in this document is not meant to be impartial investment advice or advice in a fiduciary capacity and is not tailored to the investment needs of any specific individual or category of individuals. Opinions and examples are meant as an illustration of broader themes, are not an indication of trading intent, and are subject to changes at any time due to changes in the market or economic conditions. The information presented herein has been developed internally or obtained from sources believed to be reliable; however, neither the author nor Smith Capital Investors guarantees that the information supplied is accurate, complete, or timely, nor are there any warranties with regards to the results obtained from its use.  It is not intended to indicate or imply that any illustration/example mentioned is now or was ever held in any portfolio.
Past performance is no guarantee of future results. As with any investment, there is a risk of loss. Investing in a bond market is subject to risks, including market, interest rate, issuer, credit, inflation, default, and liquidity risk. The bond market is volatile. The value of most bonds and bond strategies are impacted by changes in interest rates. The return of principal is not guaranteed, and prices may decline if an issuer fails to make timely payments or its credit strength weakens. High yield or "junk" bonds involve a greater risk of default and price volatility and can experience sudden and sharp price swings.
Please consider the charges, risks, expenses, and investment objectives carefully before investing. Please see a prospectus, or, if available, a summary prospectus containing this and other information. Read it carefully before you invest or send money. Investing involves risk, including the possible loss of principal and fluctuation of value.
All indices are unmanaged. You cannot invest directly in an index. Index or benchmark performance presented in this document does not reflect the deduction of advisory fees, transaction charges, and other expenses, which would reduce performance.
This material may not be reproduced in whole or in part in any form, or referred to in any other publication, without express written permission from Smith Capital Investors.
Smith Capital Investors, LLC is a registered investment adviser.
SCI00108