The Federal Reserve used the annual Jackson Hole Economic Policy Symposium today as a platform to announce the updates to the long-run goals. The Fed will now seek an average inflation target of 2% over time and assess the shortfalls of employment from the maximum level.
From the Press Release:
"The economy is always evolving, and the FOMC's strategy for achieving its goals must adapt to meet the new challenges that arise," said Federal Reserve Chair Jerome H. Powell. "Our revised statement reflects our appreciation for the benefits of a strong labor market, particularly for many in low- and moderate-income communities, and that a robust job market can be sustained without causing an unwelcome increase in inflation."
Among the more significant changes to the framework document are:
On maximum employment, the FOMC emphasized that maximum employment is a broad-based and inclusive goal and reports that its policy decision will be informed by its "assessments of the shortfalls of employment from its maximum level." The original document referred to "deviations from its maximum level."
On price stability, the FOMC adjusted its strategy for achieving its longer-run inflation goal of 2 percent by noting that it "seeks to achieve inflation that averages 2 percent over time." To this end, the revised statement states that "following periods when inflation has been running persistently below 2 percent, appropriate monetary policy will likely aim to achieve inflation moderately above 2 percent for some time."
The updates to the strategy statement explicitly acknowledge the challenges for monetary policy posed by a persistently low interest rate environment. Here in the United States and around the world, monetary policy interest rates are more likely to be constrained by their effective lower-bound than in the past.
The Treasury market's initial reaction is a curve steepening. The front-end of the curve is pegged to the current Fed Funds Rate while the long-end of the curve believes that the Fed will inevitably hold rates low for too long and generate inflation that they are unable to control. We disagree.
INSTITUTIONAL INVESTOR USE ONLY
U.S. Treasury Curve August 1, 2020 vs. August 27, 2020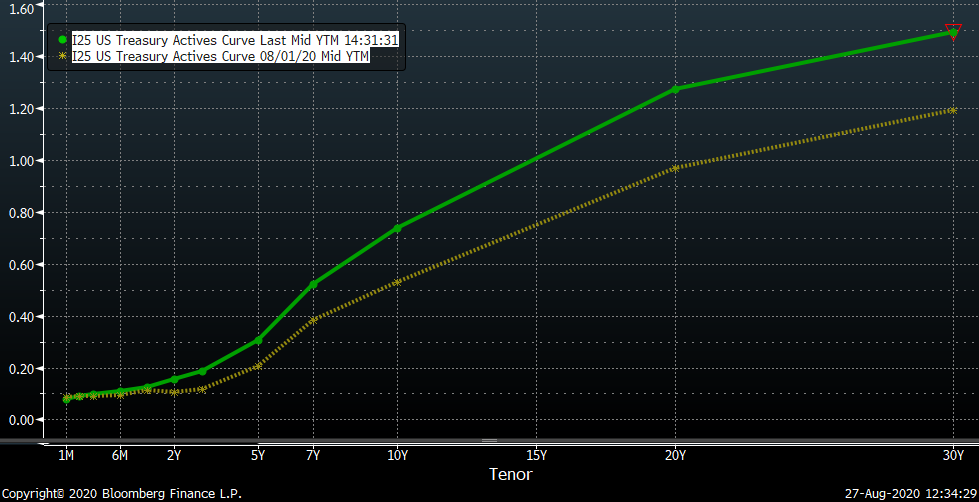 Source: Bloomberg 8/27/20
While the next 12-months will be influenced by a base effect as we work through the economic shutdown induced impacts on the inflation data – very low YoY inflation currently will provide a pop 12-months from now – the temporary base effect adjustments will fade and leave the inflation level running near 2% again.
Recall that post the 2007 recession, inflation via Core CPI and Core PCE marked a high print of 2.4% YoY and 2.2% YoY. These are not levels that either the market or the Fed would consider "out of control inflation."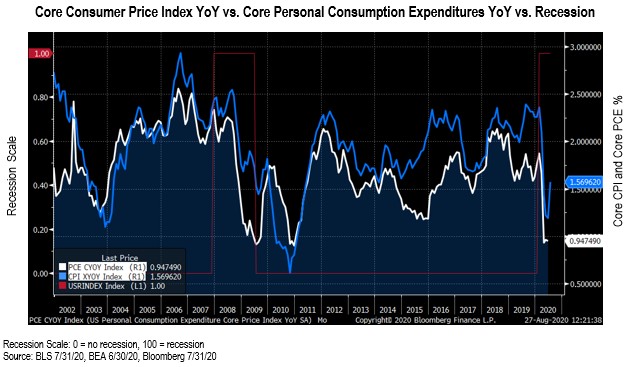 The Fed has been clear that rates will remain accommodative for a long period of time. We believe there will be a disconnect between the market's view on growth and inflation vs. actual growth and inflation. The square root recovery is taking shape – a quick drawdown and snapback followed by a plateau. The outcome of what we believe will be a disconnect between the market and the Fed will create a great environment for active investors. We will be able to utilize duration management to position around the future market volatility.
INSTITUTIONAL INVESTOR USE ONLY
Let's talk – Smith Capital Investors  
Our mailing address is:
Smith Capital Investors
1430 Blake Street
Denver, CO 80202
303-597-5555
833-577-6484
info@smithcapitalinvestors.com
www.smithcapitalinvestors.com
The opinions and views expressed are as of the date published and are subject to change without notice of any kind and may no longer be true after any date indicated. Information presented herein is for discussion and illustrative purposes only and should not be used or construed as financial, legal, or tax advice, and is not a recommendation or an offer or solicitation to buy, sell or hold any security, investment strategy, or market sector. No forecasts can be guaranteed, and the author and Smith Capital Investors assume no duty to and do not undertake to update forward-looking predictions or statements. Forward-looking predictions or statements are subject to numerous assumptions, risks, and uncertainties, which change over time. Actual results could differ materially from those anticipated in forward-looking predictions or statements.
Any investment or management recommendation in this document is not meant to be impartial investment advice or advice in a fiduciary capacity and is not tailored to the investment needs of any specific individual or category of individuals. Opinions and examples are meant as an illustration of broader themes, are not an indication of trading intent, and are subject to changes at any time due to changes in the market or economic conditions. The information presented herein has been developed internally or obtained from sources believed to be reliable; however, neither the author nor Smith Capital Investors guarantees that the information supplied is accurate, complete, or timely, nor are there any warranties with regards to the results obtained from its use.  It is not intended to indicate or imply that any illustration/example mentioned is now or was ever held in any portfolio.
Past performance is no guarantee of future results. As with any investment, there is a risk of loss. Investing in a bond market is subject to risks, including market, interest rate, issuer, credit, inflation, default, and liquidity risk. The bond market is volatile. The value of most bonds and bond strategies are impacted by changes in interest rates. The return of principal is not guaranteed, and prices may decline if an issuer fails to make timely payments or its credit strength weakens. High yield or "junk" bonds involve a greater risk of default and price volatility and can experience sudden and sharp price swings.
Please consider the charges, risks, expenses, and investment objectives carefully before investing. Please see a prospectus, or, if available, a summary prospectus containing this and other information. Read it carefully before you invest or send money. Investing involves risk, including the possible loss of principal and fluctuation of value.
All indices are unmanaged. You cannot invest directly in an index. Index or benchmark performance presented in this document does not reflect the deduction of advisory fees, transaction charges, and other expenses, which would reduce performance.
This material may not be reproduced in whole or in part in any form, or referred to in any other publication, without express written permission from Smith Capital Investors.
Smith Capital Investors, LLC is a registered investment adviser.
INSTITUTIONAL INVESTOR USE ONLY
SCI00071