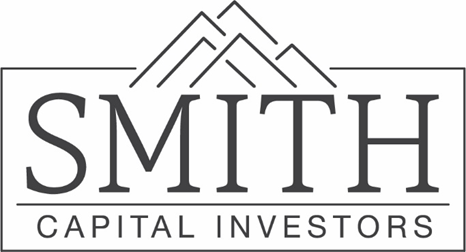 Key Themes for 2023: Trading
Trading
Zach Tucker, Head of Trading
If 2021 was the celebration party for portfolio trading (PT), then 2022 was the year of the exchange-traded fund (ETF). We closed 2021 engaged with numerous counterparties regarding PT capabilities listening to accomplishments and platitudes around the latest financial product touted to be profitable for both parties. Realistically, PT was created to address the issue of liquidity for custom baskets of securities. A nuance we must acknowledge is that these portfolios may be a combination of buys and sells. A fund experiencing large inflows/outflows or desiring a quick change in strategy could more efficiently price a large number of bonds for a swift transaction with a single counterparty. In short, the PT service made things more efficient from a time, pricing, and resources standpoint. No matter the iterations or details, let us be clear that this was a tool for liquidity.
In 2022, there were numerous periods where liquidity in credit markets was sub-optimal. During those periods, brokers remarked consistently that ETF funds were skewing their markets by blindly hitting bids or lifting offers to fit within their basket of bond parameters. In a market of bespoke securities such as fixed income, the ETF investor looks for broader exposure rather than single-bond risk. Many fixed income managers bemoaned a wide bid-ask spread and the 'stupid' levels where bonds were executed with many of these trades attributable to ETF funds, while some managers instead saw an opportunity. One thing that became clear was that ETFs had become the new tool solving for the same issue as PTs—the need for liquidity.
While we reflect on the past year and consider themes for the next, how the liquidity picture will look and develop should be top of mind. Financial engineering is always progressing in the background, and there are certain to be more products, tools, and outlets as fluid market dynamics demand. Much ink was spilled on the PT (r)evolution despite garnering just ~3.5% of credit trading volumes. It was a product used predominantly by active fixed income managers. As we can see from ETF fund flows in 2022, investors sought the "buy or sell at any level" liquidity it provided, perhaps with less of an eye for returns and more for the ability to express a macro view. To throw another product into the liquidity mix, we should give a nod to the U.S. government soliciting solutions to improve Treasury liquidity as the Fed removes itself from being an active buyer.
We see this trend of seeking liquidity continuing in 2023, and one that will hold the attention of Wall Street quants and stodgy investors alike.
INSTITUTIONAL INVESTOR USE ONLY
Morgan Stanley Corporate Credit Strategy October 14, 2022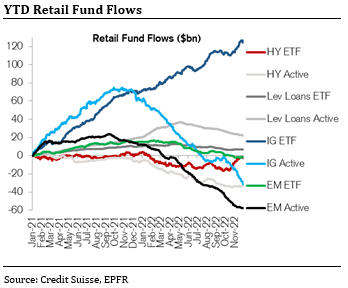 CS Credit Strategy Daily, December 7, 2022
INSTITUTIONAL INVESTOR USE ONLY
To read our full 2023 Outlook, click here
Let's keep talking!
Smith Capital Investors
mailing address is:
Smith Capital Investors
1430 Blake Street
Denver, CO 80202
303-597-5555
833-577-6484
info@smithcapitalinvestors.com
www.smithcapitalinvestors.com
The opinions and views expressed are as of the date published and are subject to change without notice of any kind and may no longer be true after any date indicated. Information presented herein is for discussion and illustrative purposes only and should not be used or construed as financial, legal, or tax advice, and is not a recommendation or an offer or solicitation to buy, sell or hold any security, investment strategy, or market sector. No forecasts can be guaranteed, and the author and Smith Capital Investors assume no duty to and do not undertake to update forward-looking predictions or statements. Forward-looking predictions or statements are subject to numerous assumptions, risks, and uncertainties, which change over time. Actual results could differ materially from those anticipated in forward-looking predictions or statements.
Any investment or management recommendation in this document is not meant to be impartial investment advice or advice in a fiduciary capacity and is not tailored to the investment needs of any specific individual or category of individuals. Opinions and examples are meant as an illustration of broader themes, are not an indication of trading intent, and are subject to changes at any time due to changes in the market or economic conditions. The information presented herein has been developed internally or obtained from sources believed to be reliable; however, neither the author nor Smith Capital Investors guarantees that the information supplied is accurate, complete, or timely, nor are there any warranties concerning the results obtained from its use. It is not intended to indicate or imply that any illustration/example mentioned is now or was ever held in any portfolio.
Past performance is no guarantee of future results. As with any investment, there is a risk of loss. Investing in a bond market is subject to risks, including market, interest rate, issuer, credit, inflation, default, and liquidity risk. The bond market is volatile. The value of most bonds and bond strategies are impacted by changes in interest rates. The return of principal is not guaranteed, and prices may decline if an issuer fails to make timely payments or its credit strength weakens. High yield or "junk" bonds involve a greater risk of default and price volatility and can experience sudden and sharp price swings.
Please consider the charges, risks, expenses, and investment objectives carefully before investing. Please see a prospectus, or, if available, a summary prospectus containing this and other information. Read it carefully before you invest or send money. Investing involves risk, including the possible loss of principal and fluctuation of value.
All indices are unmanaged. You cannot invest directly in an index. Index or benchmark performance presented in this document does not reflect the deduction of advisory fees, transaction charges, and other expenses, which would reduce performance.
This material may not be reproduced in whole or in part in any form, or referred to in any other publication, without express written permission from Smith Capital Investors.
Smith Capital Investors, LLC is a registered investment adviser.
SCI00348