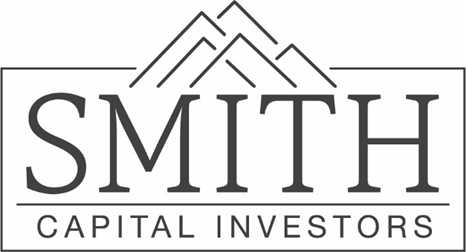 Little Thought, Big Implications?
In our latest piece on credit, focused on banks, we highlighted three likely resultants of the underlying market dynamics that were made evident through the collapse of Silicon Valley Bank (SVB). Those three highlighted things were:
Valuation: The premium regional banks have historically garnered will be tested.
Funding and Margins: Competition for deposits will increase.
Credit Creation: The propensity to lend will decrease.
While we are seeing the validity of all three, today we want to focus on the final point, Credit Creation: The propensity to lend will decrease. Ultimately, we believe this final point is extremely important.
Up until this point the Fed has largely been fighting a lonely battle against inflation. It has raised rates at one of the most aggressive paces on record and started the roll-off of its balance sheet. From 2021, financial conditions have come off the lowest levels in decades to align with 20yr averages more closely. The Fed has largely been responsible for this.
Goldman Sachs US Financial Conditions Index (Last 20yrs)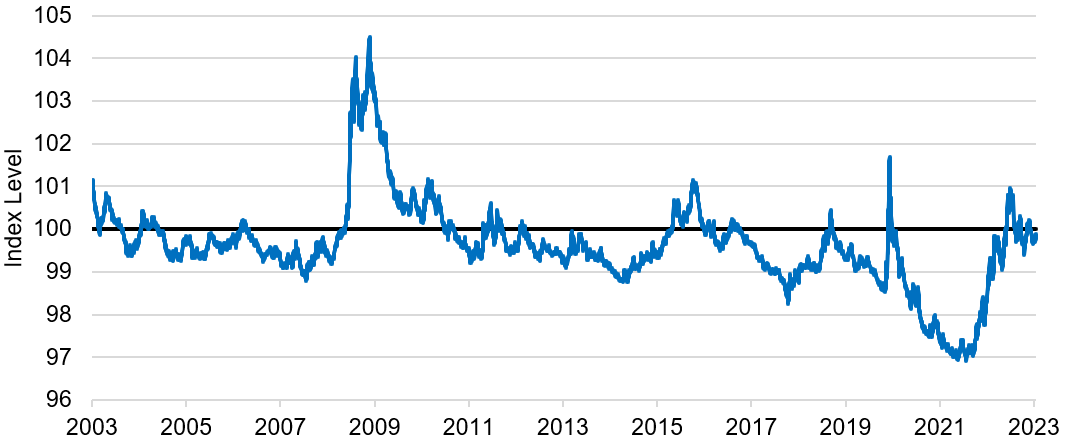 Source: Bloomberg 5/5/2023
The Fed's latest Senior Loan Officer Survey was released Monday, May 8th, 2023. It showed tighter credit conditions and weaker loan demand.
The commercial banking system reached peak deposits early 2022. Since, deposits have been exiting the banking system. Deposits are a key funding component of banks and often have very short durations. In the case of a bank, or any company for that matter, when liabilities are shrinking in the form of decreased funding it is natural to focus on the asset side of the balance sheet. To date a lot of focus within the marketplace has homed in on the quality of those assets. This makes a lot of sense to us. This said, through our research we do not see broad-based quality issues with balance sheet assets as was the case back in 2008.
INSTITUTIONAL INVESTOR USE ONLY
US Commercial Bank Deposits (Last 5yrs)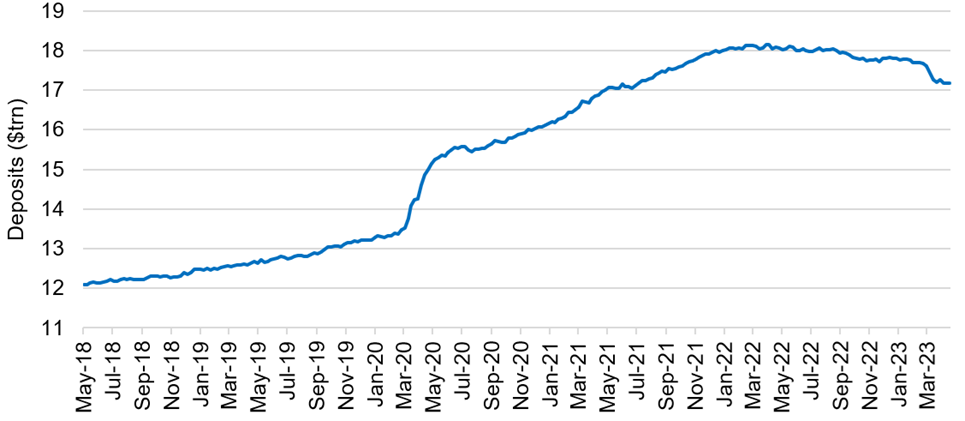 Source: Bloomberg 5/5/2023
What has gotten less attention is very simply the size of the asset side of the balance sheets and the implications shrinking deposit profiles have for this. This brings us back to the propensity to lend, where loans are bank balance sheet assets. Away from mechanically making sense we are getting confirmation from companies via their outlooks and Fed data (like the earlier referenced senior loan officer survey) that loan growth expectations are coming down.
What does all this mean? Through what is happening on the funding/liability side of bank balance sheets, we see banks implicitly joining the Fed's fight here. Where that transmission mechanism most likely comes in the form of decreased lending (contraction in credit growth) and therefore additional pressure on financial conditions. We are closely watching all these factors as their impact on both the spread and rates markets could have wide ranging implications.
Goldman Sachs US Financial Conditions Index vs. Bloomberg Baa Spreads (Last 20yrs)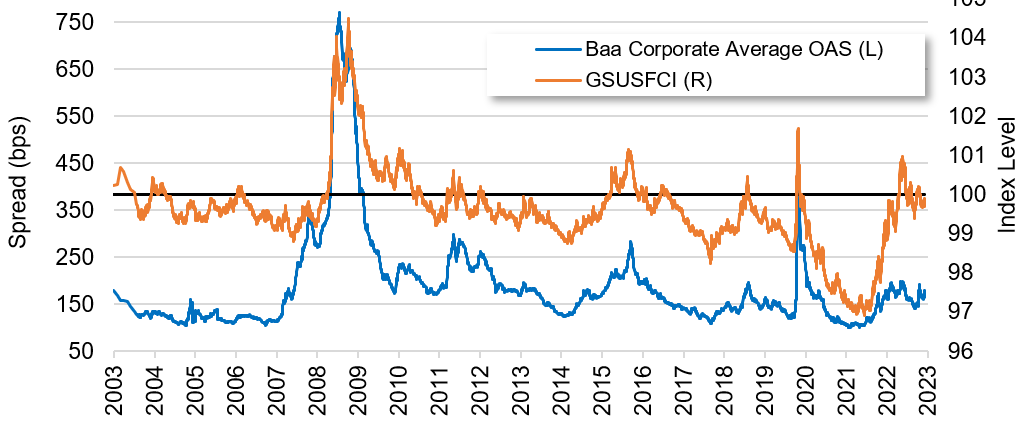 Source: Bloomberg 5/5/2023
INSTITUTIONAL INVESTOR USE ONLY
Let's keep talking!
Smith Capital Investors
Our mailing address is:
Smith Capital Investors
1430 Blake Street
Denver, CO 80202
303-597-5555
833-577-6484
info@smithcapitalinvestors.com
www.smithcapitalinvestors.com
The opinions and views expressed are as of the date published and are subject to change without notice of any kind and may no longer be true after any date indicated. Information presented herein is for discussion and illustrative purposes only and should not be used or construed as financial, legal, or tax advice, and is not a recommendation or an offer or solicitation to buy, sell or hold any security, investment strategy, or market sector. No forecasts can be guaranteed, and the author and Smith Capital Investors assume no duty to and do not undertake to update forward-looking predictions or statements. Forward-looking predictions or statements are subject to numerous assumptions, risks, and uncertainties, which change over time. Actual results could differ materially from those anticipated in forward-looking predictions or statements.
Any investment or management recommendation in this document is not meant to be impartial investment advice or advice in a fiduciary capacity and is not tailored to the investment needs of any specific individual or category of individuals. Opinions and examples are meant as an illustration of broader themes, are not an indication of trading intent, and are subject to changes at any time due to changes in the market or economic conditions. The information presented herein has been developed internally or obtained from sources believed to be reliable; however, neither the author nor Smith Capital Investors guarantees that the information supplied is accurate, complete, or timely, nor are there any warranties concerning the results obtained from its use. It is not intended to indicate or imply that any illustration/example mentioned is now or was ever held in any portfolio.
Past performance is no guarantee of future results. As with any investment, there is a risk of loss. Investing in a bond market is subject to risks, including market, interest rate, issuer, credit, inflation, default, and liquidity risk. The bond market is volatile. The value of most bonds and bond strategies are impacted by changes in interest rates. The return of principal is not guaranteed, and prices may decline if an issuer fails to make timely payments or its credit strength weakens. High yield or "junk" bonds involve a greater risk of default and price volatility and can experience sudden and sharp price swings.
Please consider the charges, risks, expenses, and investment objectives carefully before investing. Please see a prospectus, or, if available, a summary prospectus containing this and other information. Read it carefully before you invest or send money. Investing involves risk, including the possible loss of principal and fluctuation of value.
All indices are unmanaged. You cannot invest directly in an index. The index or benchmark performance presented in this document does not reflect the deduction of advisory fees, transaction charges, and other expenses, which would reduce performance.
This material may not be reproduced in whole or in part in any form, or referred to in any other publication, without express written permission from Smith Capital Investors.
Smith Capital Investors, LLC is a registered investment adviser.
SCI00370