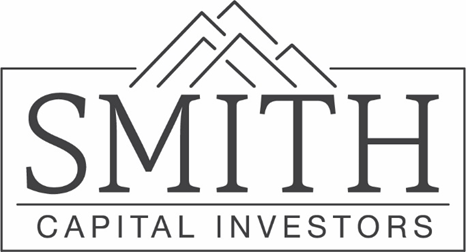 Five Key Areas I Think We Must Get Right in 2023
1. Yield Curve Management
The significant yield curve inversions of 2022 should start to normalize as the Fed pauses in further raising front end rates. We will also have to contend with the next stage of tightening—the reduction of the balance sheet. Getting the yield curves right is an important focus in 2023. The historical reminder is that yield curve normalization can be quick and violent as the graph below shows us.
10yr Minus 2yr U.S. Treasury
2. Duration Management
Over the 35 plus year bull market in bonds, I remind investors that it was not an easy bull market. There were multiple 150–250 basis point changes both up and down. The recent correction in yields has proven to be one of the more significant ones as investors wrangled with policy tightening and a significant change in inflation and inflation expectations. Understanding these cycles and getting the duration positioning right will prove to be extremely important in 2023. There will be times to be long duration in portfolios and other periods to be short. The free ride for long duration passive investing is over and presents a new risk to fixed income investors. (Me checking my bias at the door.)
10yr U.S. Treasury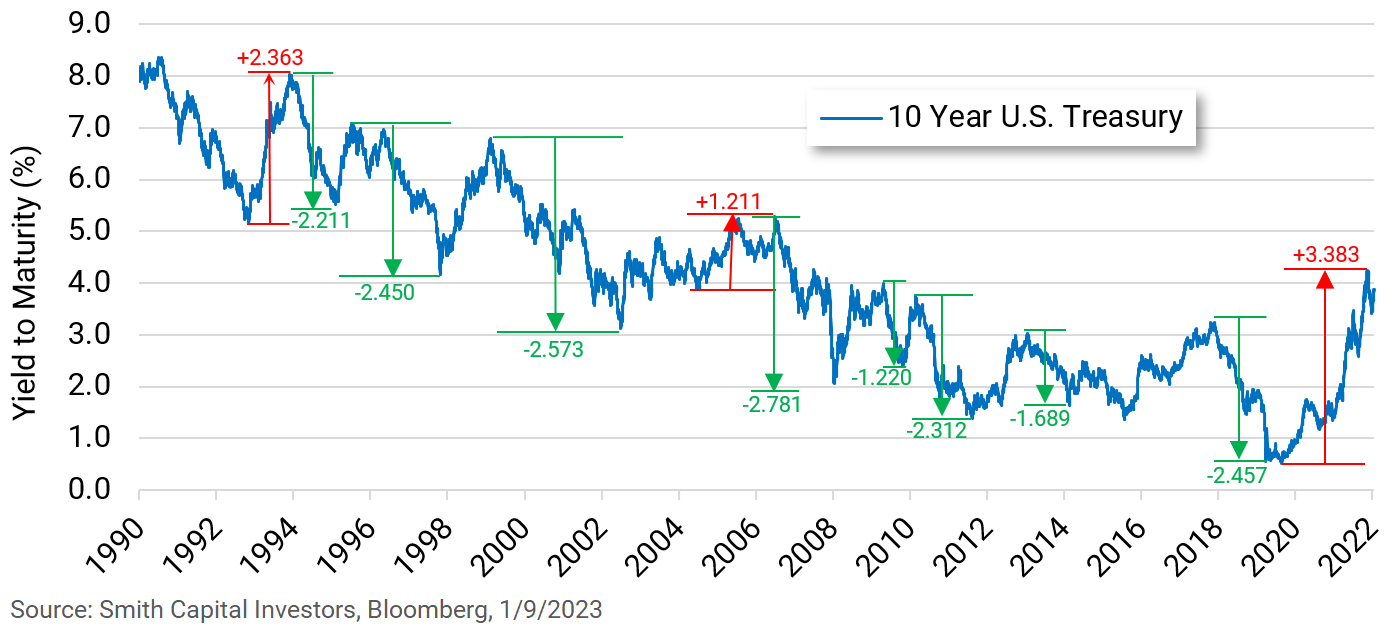 INSTITUTIONAL INVESTOR USE ONLY
3. Sector/segment management/rotation
Eric, Jonathan, and Garrett all touch on this in our "2023 Outlook" piece. The repricing of fixed income in 2022 has wiped out much of the significant differentiation across segments of the fixed income markets. The most glaring example is the duration adjustment in mortgages moving from 1.5 years of duration to over 6.0 years in 2022. The yield and duration differentials between credit and mortgages have largely normalized, making allocations to these markets a critical component of generating returns in 2023. Our bearish positioning in mortgages for most of 2022 is being reconsidered. While getting allocations to both MBS and Credit right in 2023 is important, security selection in these markets will be critical too. Lastly, our use of out of index positioning effectively could prove to be the special sauce in 2023.
4. Correlation
A new awakening is happening on the correlation front. Understanding the relationship between stocks and bonds could prove to be one of the most important active decisions for asset allocators in 2023. This has significant implications for fixed income investors. A break or reduction in the positive correlation between stocks and bonds in 2023 will have broader implications around flows for fixed income than I believe many understand. Stay tuned for more thoughts on this in the near future.
5. Interaction of global monetary and fiscal policy and geopolitics
Keeping this short, we believe that understanding the damaged US/China relationship is critical in 2023. I have frequently referred to this as the healthy dysfunctional relationship that keeps the global economy rolling, but new tensions and the wake-up call that the covid period provided the United States will have significant implications around this relationship. This may be a focus for the next decade, but I believe that having a deeper understanding and attention around how this is evolving is critical to managing fixed income money. Grasping this and positioning around the changes will be important in 2023 and beyond.
I close with a consideration that we have been discussing as a team. We call it the "Front-End Yield Trap". In an environment where yield curves are significantly inverted, investors are given the opportunity to take advantage of higher yields on shorter duration/maturity assets. We think it makes a ton of sense to find the highest yield and lowest risk opportunities in the front end of the market. However, we see a growing group of investors with a solid appetite for yield wanting to take advantage of this opportunity and putting all their eggs in one basket. We don't want to lose sight of the reasoning behind this outcome—markets believe that there is a weaker economic outlook and a lower inflation environment on the horizon. Significantly inverted yield curves tell the story clearly. In a world that still needs yield, the draw to the front end is logical, but let's not lose sight that duration is a recession's best friend and yield is just one element of total return. I am not suggesting that a long duration positioning is the right approach right here and right now, but I urge you to not fall victim to the "Front-End Yield Trap" and to reconsider the math behind the market when thinking about your fixed income allocations. More on this as the year progresses.
To read our full 2023 Outlook, click here
INSTITUTIONAL INVESTOR USE ONLY
Let's keep talking!
Smith Capital Investors
Our mailing address is:
Smith Capital Investors
1430 Blake Street
Denver, CO 80202
303-597-5555
833-577-6484
info@smithcapitalinvestors.com
www.smithcapitalinvestors.com
The opinions and views expressed are as of the date published and are subject to change without notice of any kind and may no longer be true after any date indicated. Information presented herein is for discussion and illustrative purposes only and should not be used or construed as financial, legal, or tax advice, and is not a recommendation or an offer or solicitation to buy, sell or hold any security, investment strategy, or market sector. No forecasts can be guaranteed, and the author and Smith Capital Investors assume no duty to and do not undertake to update forward-looking predictions or statements. Forward-looking predictions or statements are subject to numerous assumptions, risks, and uncertainties, which change over time. Actual results could differ materially from those anticipated in forward-looking predictions or statements.
Any investment or management recommendation in this document is not meant to be impartial investment advice or advice in a fiduciary capacity and is not tailored to the investment needs of any specific individual or category of individuals. Opinions and examples are meant as an illustration of broader themes, are not an indication of trading intent, and are subject to changes at any time due to changes in the market or economic conditions. The information presented herein has been developed internally or obtained from sources believed to be reliable; however, neither the author nor Smith Capital Investors guarantees that the information supplied is accurate, complete, or timely, nor are there any warranties concerning the results obtained from its use. It is not intended to indicate or imply that any illustration/example mentioned is now or was ever held in any portfolio.
Past performance is no guarantee of future results. As with any investment, there is a risk of loss. Investing in a bond market is subject to risks, including market, interest rate, issuer, credit, inflation, default, and liquidity risk. The bond market is volatile. The value of most bonds and bond strategies are impacted by changes in interest rates. The return of principal is not guaranteed, and prices may decline if an issuer fails to make timely payments or its credit strength weakens. High yield or "junk" bonds involve a greater risk of default and price volatility and can experience sudden and sharp price swings.
Please consider the charges, risks, expenses, and investment objectives carefully before investing. Please see a prospectus, or, if available, a summary prospectus containing this and other information. Read it carefully before you invest or send money. Investing involves risk, including the possible loss of principal and fluctuation of value.
All indices are unmanaged. You cannot invest directly in an index. Index or benchmark performance presented in this document does not reflect the deduction of advisory fees, transaction charges, and other expenses, which would reduce performance.
This material may not be reproduced in whole or in part in any form, or referred to in any other publication, without express written permission from Smith Capital Investors.
Smith Capital Investors, LLC is a registered investment adviser.
SCI00333