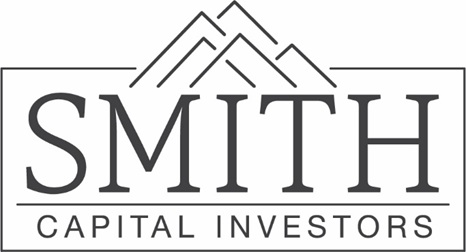 The Fed's Less Than Desirable Outcome
The month of August was looking reasonable – we saw an extremely strong employment report and encouragingly soft inflation data. Powell's Jackson Hole speech was short and sweet but also clear and concise. The remaining Fed members rallied around a hawkish tone that was generally well communicated and accepted in the market. Enter in the month of September…. while off to a good start with the employment report and ISM surveys, the consumer price report took the wind right out of the Fed's sails. There is very little debate in the market in the wake of the higher-than-expected report that a 75bps hike is all but set for the September meeting. Acknowledging that Monetary Policy works with a lag, the Fed is still likely disappointed with the transmission mechanism, and we believe they will continue to aggressively hike rates in an attempt to slow demand.
Early Stage prices and Inflation Expectations turned over, Core CPI continues to Lag:
Oil has been on a downward trend since June bringing relief to the pump with national average gasoline prices back below $4/gallon.
ISM Manufacturing Prices Paid moved down to 52.5 from a high of 92 while the Producer Price Index marked a slower pace of increase YoY in the August data.
Inflation expectations continue to decline after peaking in the first half of 2022.
The Consumer Price Index shocked the market once again in the August report with the data unfortunately higher-than-expected. The headline rose 0.1% and softened to 8.3% YoY from 8.5% in July and a high print at 9.1% YoY in June. The headline is moving in the right direction, but the progress is slower than the market hoped. Core, on the other hand, caught the market off-guard, rising 0.6% this month to 6.3% YoY vs. 5.9% in July.
Oil vs. Gasoline
 Source: Bloomberg, 9/13/2022
INSTITUTIONAL INVESTOR USE ONLY
ISM Manufacturing Prices Paid vs. PPI Ex Food/Energy/Trade YoY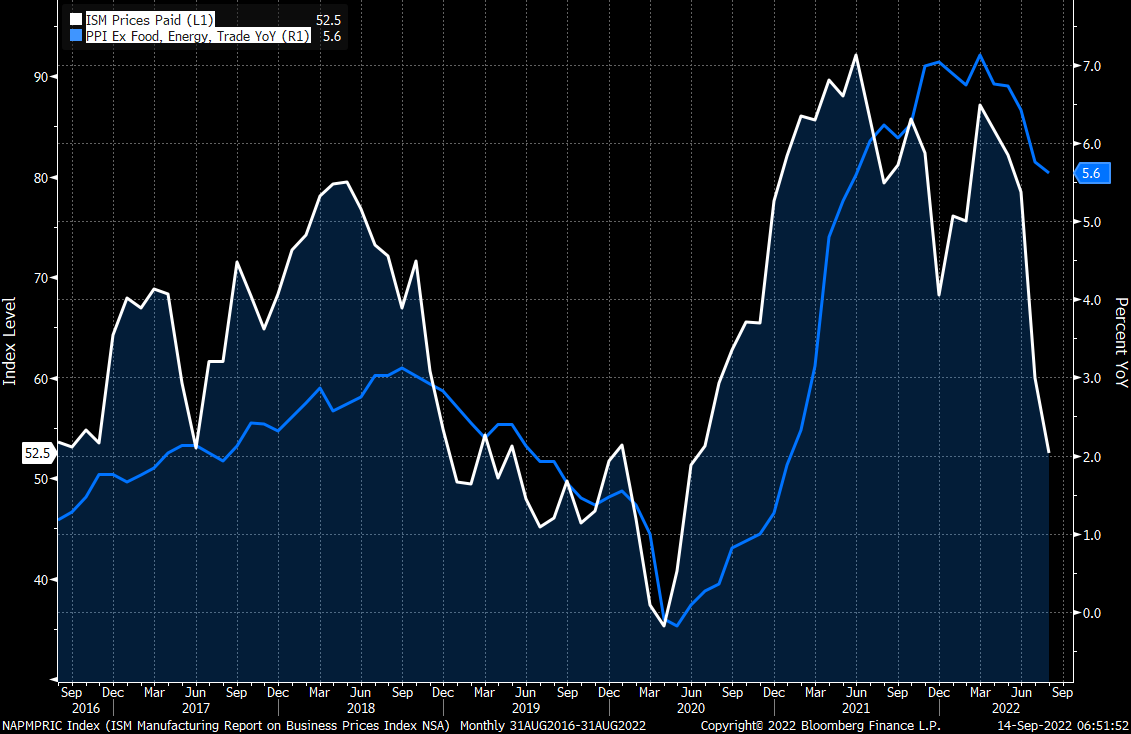 Source: Bloomberg, 9/14/2022
University of Michigan Inflation Expectations 1-yr Ahead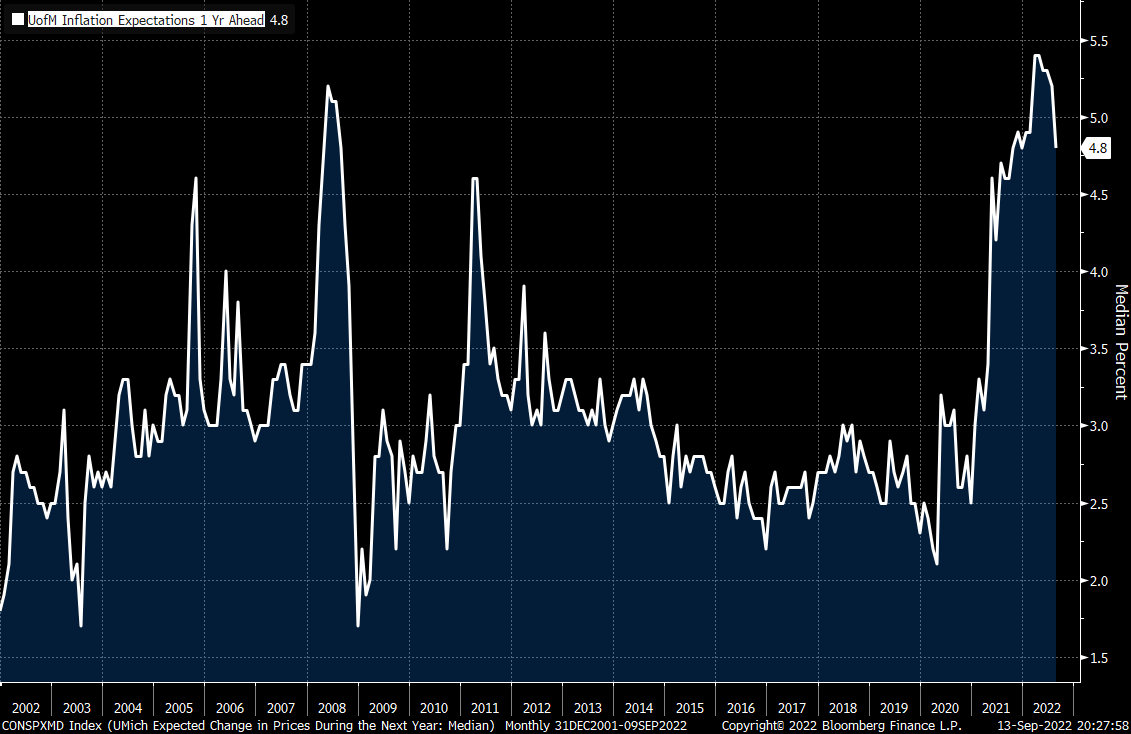 Source: Bloomberg, 9/13/2022
Consumer Price Index vs. Core CPI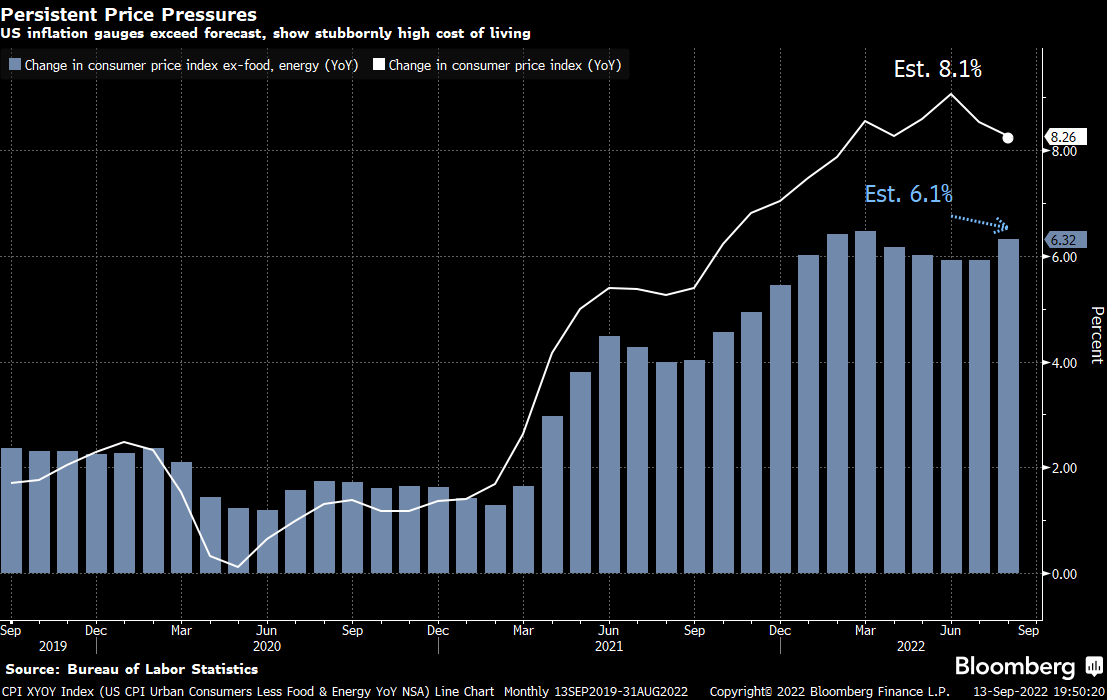 Source: Bloomberg, 9/13/2022
INSTITUTIONAL INVESTOR USE ONLY
What's Next?
The next Fed Rate decision is Wednesday, September 21. We expect to see a 75bps hike as well as a fresh round of economic projections and hear from Powell during the press conference.
Post the September decision, we have two more Fed meetings this year, in November and December. The market is currently pricing a Fed Funds Rate between 4-4.25% by year-end with a terminal rate at 4.38%.
We are watching the beginning stages of the supply chain and listening to company commentary to garner real-time information around changing inflation and growth trends.
Powell clearly stated: "The Federal Open Market Committee's (FOMC) overarching focus right now is to bring inflation back down to our 2 percent goal. Price stability is the responsibility of the Federal Reserve and serves as the bedrock of our economy. Without price stability, the economy does not work for anyone. In particular, without price stability, we will not achieve a sustained period of strong labor market conditions that benefit all. The burdens of high inflation fall heaviest on those who are least able to bear them…. We are taking forceful and rapid steps to moderate demand so that it comes into better alignment with supply, and to keep inflation expectations anchored. We will keep at it until we are confident the job is done."
While the Fed has been laser focused on using traditional rate policy (raising Fed Funds) to fight inflation, we question if/when the Fed will consider using its more powerful tool, the balance sheet, to send a stronger message to markets around their inflation fighting commitment. A change in the Fed's position on the balance sheet reduction could bring another layer of volatility into markets where yield curve inversions are significant – 10yr U.S. Treasury minus 2yr U.S. Treasury currently sits at -37bps.
U.S. Interest Rate Probability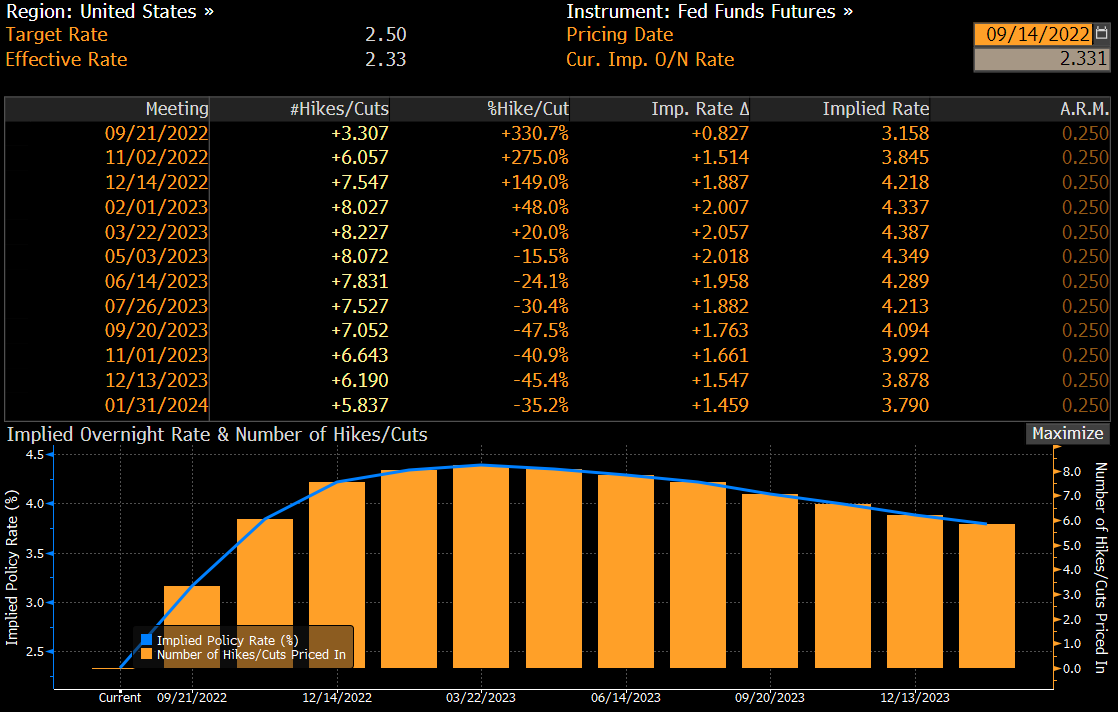 Source: World Interest Rate Probability, Bloomberg, 9/14/2022
The Fed's fight to bring inflation back to the 2% target is not over yet, and the mechanism to do so will continue to bring unintended market and economic consequences. Powell did not mince words when he stated "While higher interest rates, slower growth, and softer labor market conditions will bring down inflation, they will also bring some pain to households and businesses. These are the unfortunate costs of reducing inflation. But a failure to restore price stability would mean far greater pain."
We are reminded daily of a simple but profound phrase, "Don't Fight the Fed".
INSTITUTIONAL INVESTOR USE ONLY
Let's talk – Smith Capital Investors
Our mailing address is:
Smith Capital Investors
1430 Blake Street
Denver, CO 80202
303-597-5555
833-577-6484
info@smithcapitalinvestors.com
www.smithcapitalinvestors.com
The opinions and views expressed are as of the date published and are subject to change without notice of any kind and may no longer be true after any date indicated. Information presented herein is for discussion and illustrative purposes only and should not be used or construed as financial, legal, or tax advice, and is not a recommendation or an offer or solicitation to buy, sell or hold any security, investment strategy, or market sector. No forecasts can be guaranteed, and the author and Smith Capital Investors assume no duty to and do not undertake to update forward-looking predictions or statements. Forward-looking predictions or statements are subject to numerous assumptions, risks, and uncertainties, which change over time. Actual results could differ materially from those anticipated in forward-looking predictions or statements.
Any investment or management recommendation in this document is not meant to be impartial investment advice or advice in a fiduciary capacity and is not tailored to the investment needs of any specific individual or category of individuals. Opinions and examples are meant as an illustration of broader themes, are not an indication of trading intent, and are subject to changes at any time due to changes in the market or economic conditions. The information presented herein has been developed internally or obtained from sources believed to be reliable; however, neither the author nor Smith Capital Investors guarantees that the information supplied is accurate, complete, or timely, nor are there any warranties with regard to the results obtained from its use.  It is not intended to indicate or imply that any illustration/example mentioned is now or was ever held in any portfolio.
Past performance is no guarantee of future results. As with any investment, there is a risk of loss. Investing in a bond market is subject to risks, including market, interest rate, issuer, credit, inflation, default, and liquidity risk. The bond market is volatile. The value of most bonds and bond strategies are impacted by changes in interest rates. The return of principal is not guaranteed, and prices may decline if an issuer fails to make timely payments or its credit strength weakens. High yield or "junk" bonds involve a greater risk of default and price volatility and can experience sudden and sharp price swings.
Please consider the charges, risks, expenses, and investment objectives carefully before investing. Please see a prospectus, or, if available, a summary prospectus containing this and other information. Read it carefully before you invest or send money. Investing involves risk, including the possible loss of principal and fluctuation of value.
All indices are unmanaged. You cannot invest directly in an index. Index or benchmark performance presented in this document does not reflect the deduction of advisory fees, transaction charges, and other expenses, which would reduce performance.
This material may not be reproduced in whole or in part in any form, or referred to in any other publication, without express written permission from Smith Capital Investors.
Smith Capital Investors, LLC is a registered investment adviser.
SCI00317